Trusted by over three million students and professionals, Pocket Prep has quickly become a game changer in exam preparation. We've simplified the approach to conquering exams by making it extremely easy and convenient to study wherever life takes you. The app already allows you to create custom practice tests and track the results of those tests, but we're not stopping there.
We're on a mission to take the uncertainty out of studying by instilling you with the confidence you need to pass on your very first attempt. To do that, we're adding a slew of new features that will provide a more comprehensive overview of your strengths and weaknesses. We're also expanding on existing features, like Question of the Day (QOTD), to encourage you to keep the test material fresh in your mind. This post highlights the big changes we have in store for your study experience!
---
It All Starts with the Cloud
We're rolling out our new account-based login system which will allow you to sync your app data and exam history to our secure server. This means you can study across a variety of mobile platforms without fear of losing your progress. That update is being deployed to iOS now; Android's deployment was completed last week (March 24). Be sure to sign up before attempting to log in!
Note: iTunes or Google Play account login credentials will not get you access to our cloud app if you just tap 'Login'. While you can absolutely use the same login credentials, you need to set up a Pocket Prep cloud account in our app.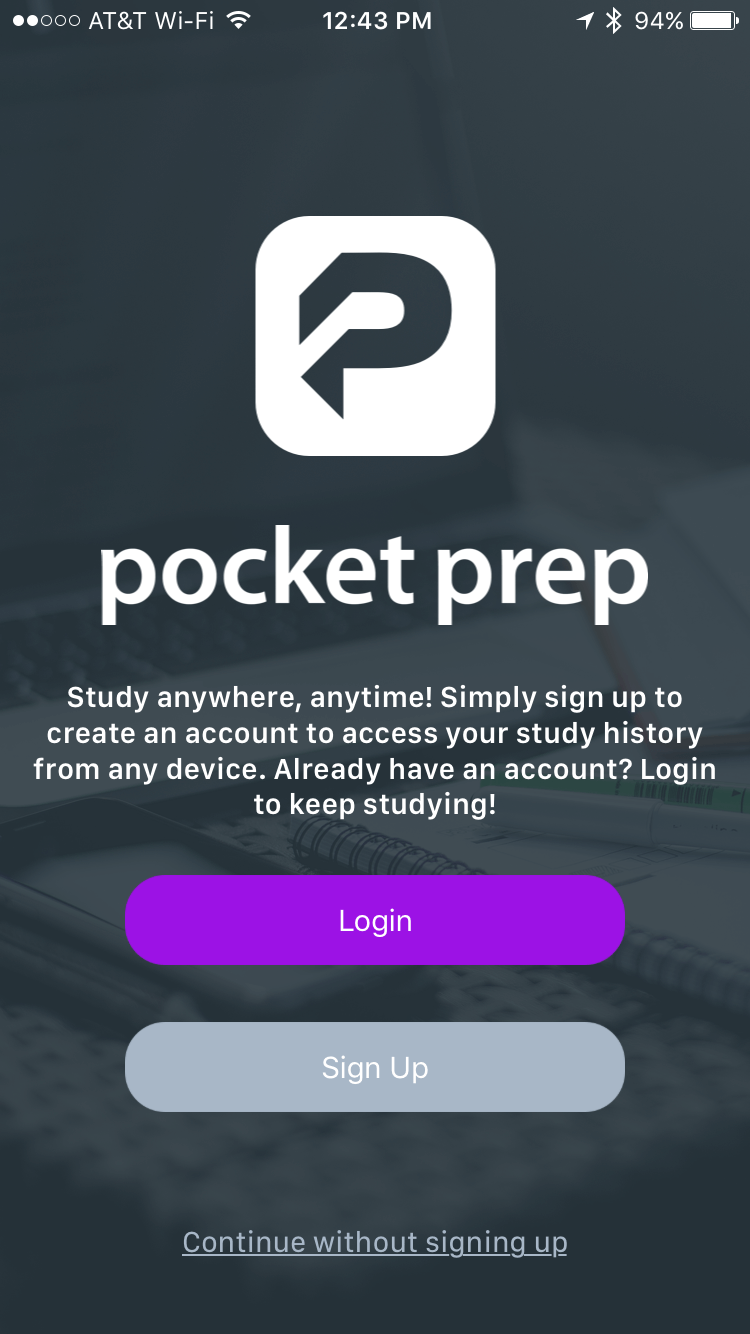 Confidence Like Never Before – The New Exam Readiness Tab
With the current version of the app, it's very easy to tell how well you did (or didn't do) on any given subject following the completion of a practice exam. The Past Exam Metrics section gives high-level cumulative scores and trends for your most recently attempted exams, but it lacks the ability to pinpoint subjects that need the most work as you complete more and more exams. You may notice yourself improving in one area but how do you account for all the subjects you'll be expected to master by exam day? Enter Exam Readiness.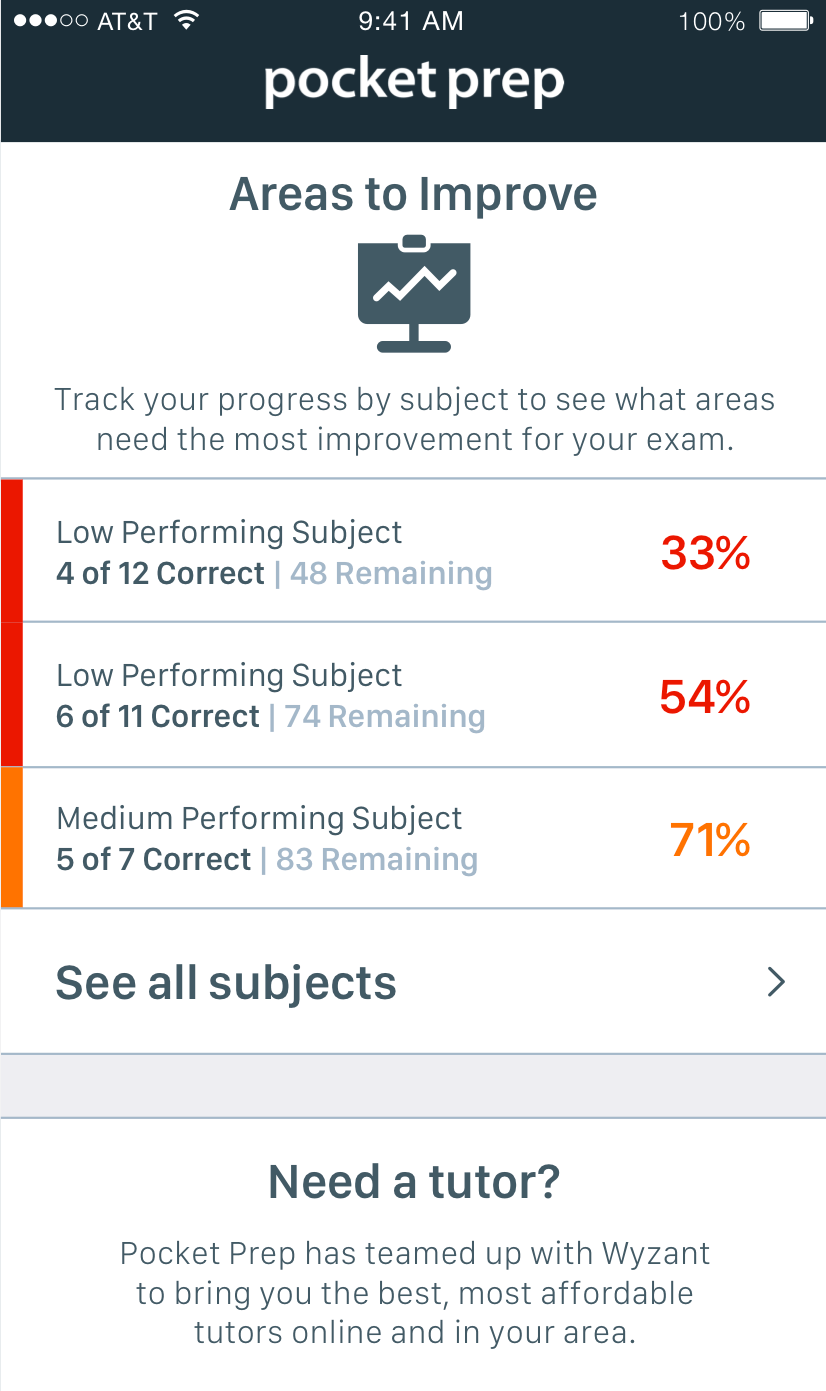 The previous tab, Reminders, was moved into the newly redesigned Settings screen (more on that later) to make room for our latest feature, Exam Readiness. The top portion features Areas to Improve, which automatically showcases your worst subjects. You can tap into a subject to see detailed metrics, such as your cumulative score, the amount of questions attempted and remaining, and even a list of exams where that particular subject appeared. It's a quick and easy way to determine where to focus your studies.
Hand-picked Tutors through Wyzant
Keeping with our theme of boosting confidence and achieving exam readiness, we've partnered with Wyzant to bring you the best in affordable online tutoring. We curate a list of tutors who are qualified to help tackle your worst subjects. The results are arranged so that your best matches appear first. You can tap on a tutor's profile to learn more about that tutor and how much they charge per session. When you reach out to a tutor there's no obligation, so don't hesitate to send an email introducing yourself and your study goals.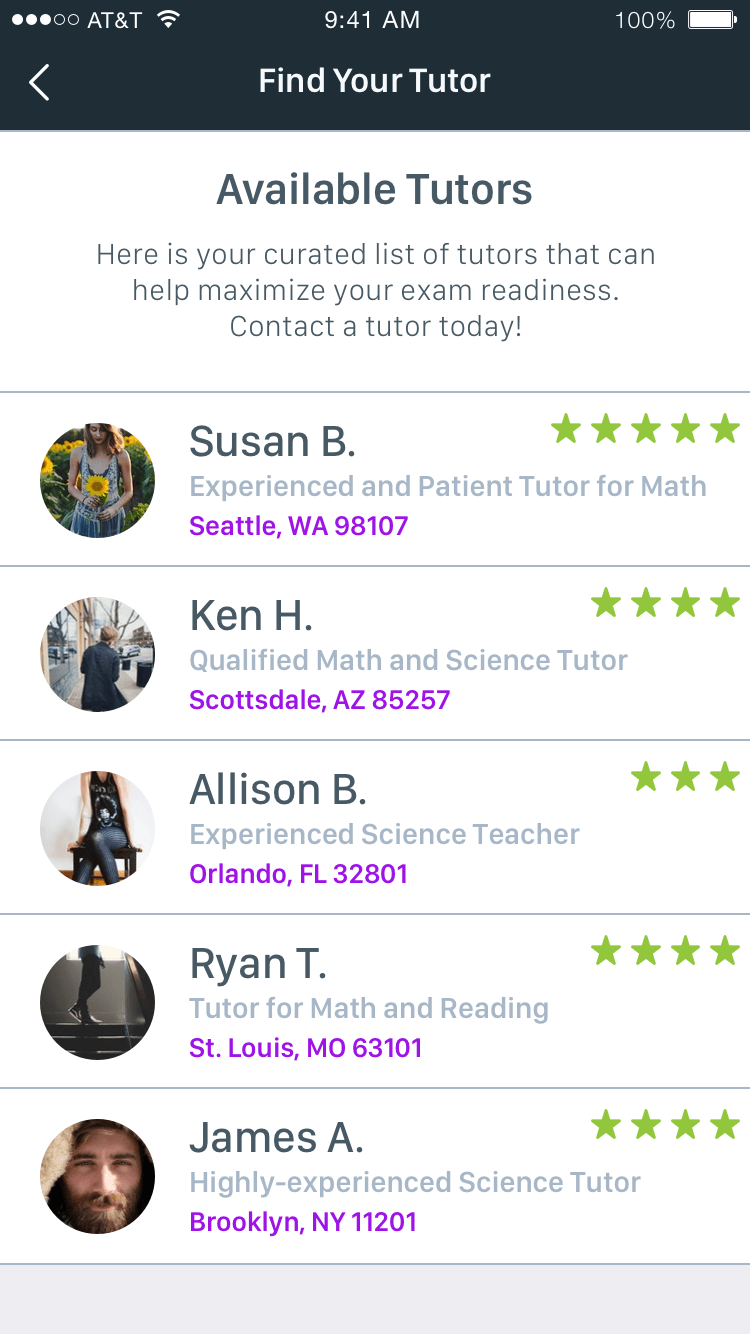 QOTD History is Back
By popular request, we're bringing back Question of the Day (QOTD) History so you can track your daily question performance. Now you can quickly see the overall percentage of QOTD you've answered correctly as well as how many you've attempted without missing a day (current streak). The most valuable portion of this new section is the ability to sort/filter the entire list to locate individual questions covering topics you may want to brush up on.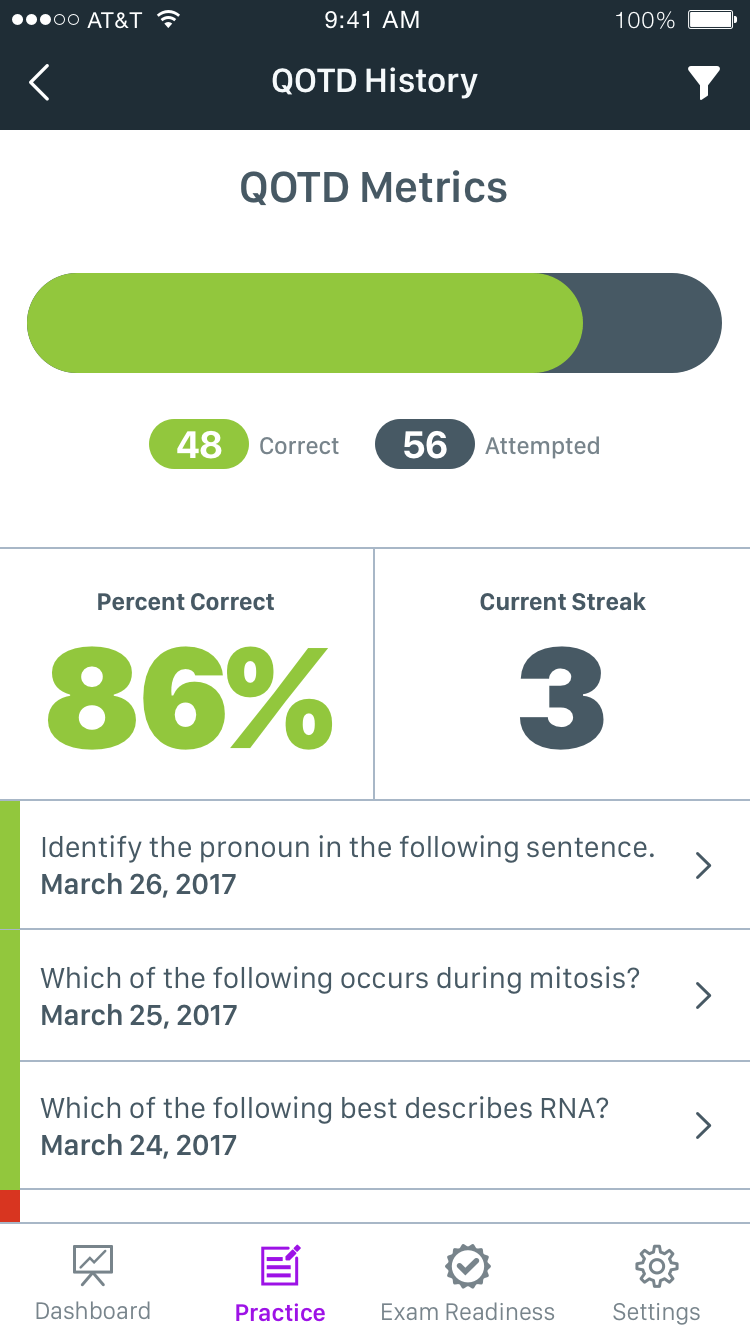 The All-New Settings Tab
As mentioned above, we merged Reminders and Settings into a single tab, making it the new home for all account-related information. You can now upload a profile picture for a more personal study experience. Social media profile pictures are automatically populated if you chose to sign up via Facebook or Twitter.
The other noteworthy addition is the Test Version section which helps ensure you're using the latest and great content. This section will become particularly important if/when there are multiple versions of the test. For example, when the PMP exam blueprint changes from PMBOK 5 to 6, the Project Management Institute will most likely allow candidates to take either version of the exam during the transition to PMBOK 6. You'll be able to tell the app which version you're intending to take and it'll take care of the rest. You can even switch back and forth if plans change.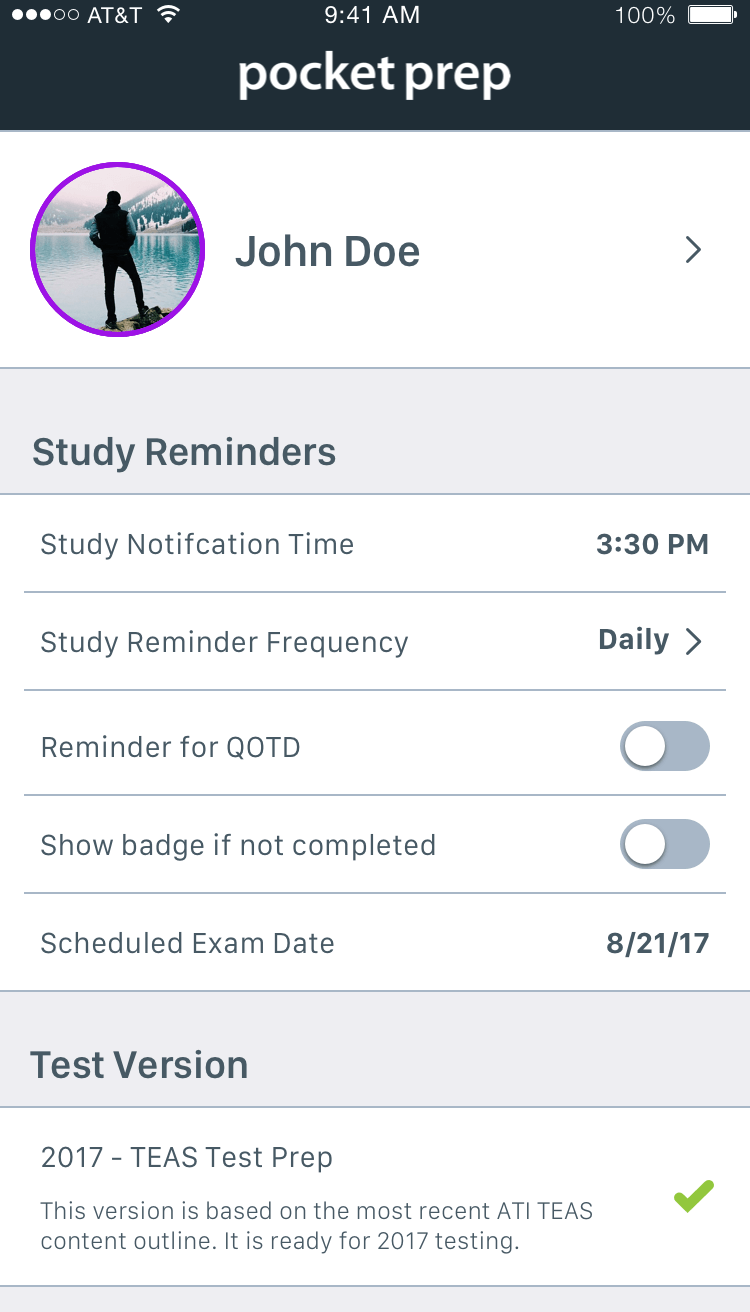 ---
As you can see, 2017 is off to a terrific start. The team has done an exceptional job rounding out the app's analytic capabilities in a way that's simple, clean, and intuitive. Combined with our top-notch content, these new features have all the firepower needed to boost your confidence and get you ready for exam day.
iOS users can expect to enjoy this latest version of Pocket Prep in early April and Android users will receive the update in May.
If you love what you see, have a question, or have a great idea that you think would help improve our app even more, please reach out to us!
-The Pocket Prep Team