EMR and other First Responder Certifications 
Emergency Medical Responders (EMRs) are first responders who provide emergency care to those who have experienced an illness or injury. EMRs have the knowledge and skills to provide lifesaving interventions until higher-level emergency responders such as Emergency Medical Technicians (EMTs) or Paramedics arrive.
In this article, we'll cover the different levels of emergency first responders and how to get certified as an EMR with the National Registry of Emergency Medical Technicians (NREMT).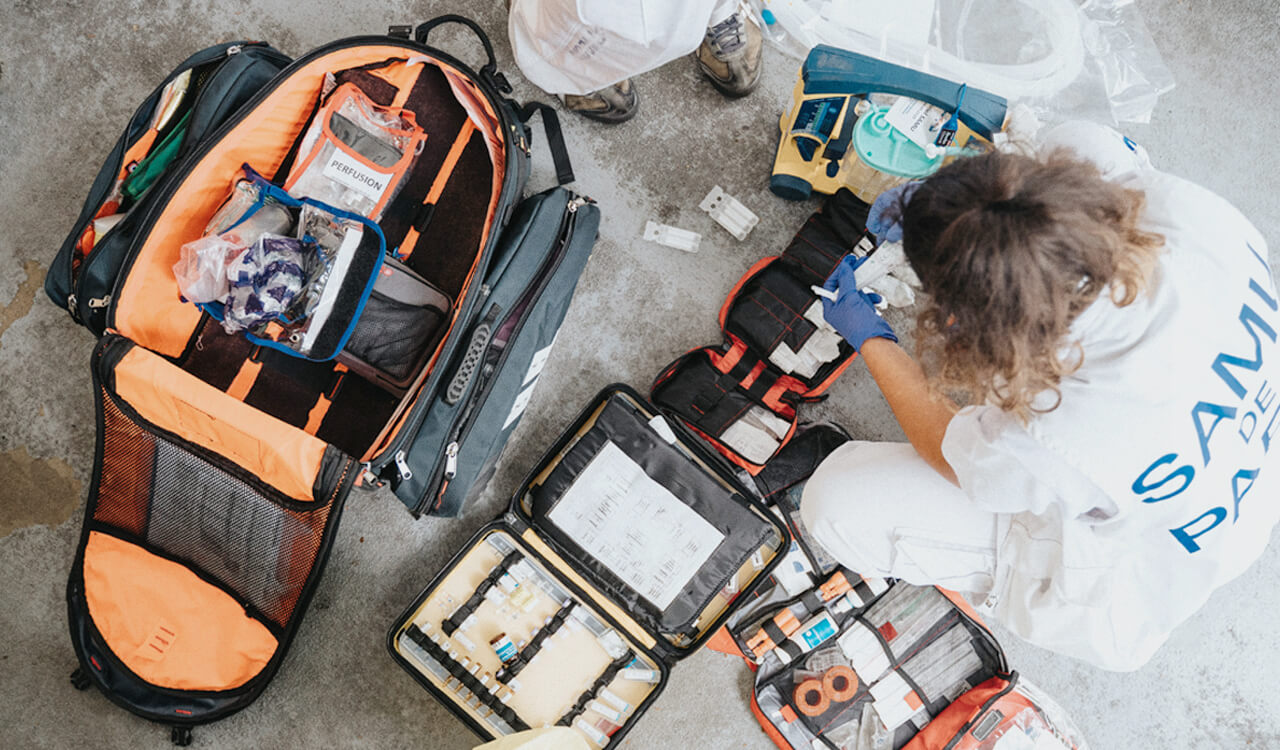 The different levels of First Responders
There are four different levels of first responders. Starting with the most basic to the most advanced, they are Emergency Medical Responder (EMR), Emergency Medical Technician (EMT), Advanced Emergency Medical Technician (AEMT), and Paramedic. Choosing which level of certification to receive depends on the person and their career choice.
Emergency Medical Responder (EMR)
What's the difference between an EMR and an EMT? Those who choose to become a certified EMR work in or are interested in professions such as lifeguards, law enforcement, park rangers, athletic coaches, volunteer firefighting, daycare providers, and security guards.
EMRs typically each complete a 48-60 hour course that trains on how to provide immediate lifesaving care to ill or injured individuals, performing basic procedures with minimal equipment. EMRs learn to treat immediate life threats until additional EMS resources arrive. EMRs do not typically work on ambulances unless they work in rural areas or with volunteer departments.
Emergency Medical Technician (EMT) – EMT vs EMR
Those interested in obtaining their EMT certification pursue careers with an ambulance agency, fire department, or law enforcement. Most EMTs work in transporting ambulances in both emergency and non-urgent settings.
But here's an often asked question – EMT vs EMR – what's the difference? While both are key players in emergency medical services, EMTs undergo more extensive training (150-190 hours) and have a broader scope of practice, including the ability to transport patients. Conversely, EMRs provide immediate basic care and assist EMTs but do not transport patients themselves.
EMT courses are 150-190 hours and train to provide prehospital emergency care to the sick and injured. EMTs are taught basic life support skills that include stabilizing and transporting patients. EMTs can perform interventions with basic equipment found on an ambulance. You do not need EMR training before entering an EMT program.
Advanced Emergency Medical Technician (AEMT)
In most states, those who wish to become a certified AEMT must have their EMT certification before entering the AEMT program. AEMT courses are approximately 150-250 hours and provide training in basic and limited advanced life support skills and transportation for people who are sick and injured.
AEMT students must also complete clinical training in a hospital and do an internship on an ambulance with a preceptor or training officer. With the additional training, AEMTs can perform basic and advanced interventions, such as starting intravenous lines and administering certain medications, with basic and advanced equipment generally found on ambulances.
Paramedic
The most advanced of all first responders, Paramedics complete approximately 1,000 hours of courses that train on  advanced life support skills, including intravenous therapy, intubation, and the administration of lifesaving medications. In addition to the didactic portion of the course, paramedic students must complete clinical training in a hospital and an internship on an ambulance with a preceptor or training officer who evaluates them.
Paramedics have complex skills and knowledge to provide quality medical care in the prehospital setting and are trained to use all basic and advanced equipment on the ambulance. Besides working on an ambulance, other job opportunities for Paramedics include working as a Firefighter-Paramedic or a Helicopter Flight Medic.
Why these certification distinctions are important 
The NREMT is an organization whose mission is to protect the public while advancing the emergency medical services (EMS) profession. The National Registry is considered the Nation's Emergency Medical Services Certification organization.
The National Registry is accredited by the National Commission for Certifying Agencies (NCAA) to provide accreditation to their emergency medical services certification programs.
The National Registry provides a uniform, valid process that assesses the skills and knowledge required by EMS professionals to competently practice throughout their careers. The NREMT maintains a registry of certified individuals in each of their four certification programs, including:
Emergency Medical Responder (EMR)
Emergency Medical Technician (NREMT)
Advanced Emergency Medical Technician (AEMT)
Paramedic (NRP)
Starting your EMS career as an EMR
To become an EMR for the first time, there are several steps you must take.
You must successfully complete a state-approved Emergency Medical Responder (EMR) course that meets or exceeds the National Emergency Medical Services Education Standards for the Emergency Medical Responder. The EMR course must have been completed in the past two years, and the Program Director needs to verify your successful completion on the National Registry website. To locate a state-approved course in your area, you will need to contact your state EMS office.
You are required to have a current CPR-BLS for "Healthcare Provider" or an equivalent credential.
You must successfully complete the EMR state-approved psychomotor examination that tests your skills. The psychomotor exam is administered by the State EMS Office or at the training institution that provided the EMR course.
You must successfully complete a cognitive exam that tests your knowledge and will be completed after the application process. The National Registry administers the cognitive exam.
Once you have completed the EMR course, passed the psychomotor exam, and have your CPR-BLS for Healthcare Provider card, you can start the application process. First, you will create an online account on the National Registry website. After creating an account, you will submit a National Registry application, answering all questions truthfully.
If a criminal conviction has occurred, the National Registry may deny your certification or take other appropriate action they deem necessary.
Pay the non-refundable and non-returnable $85.00 application fee. This fee is charged every time you take the cognitive exam.
Once you are eligible for the exam, you will receive an electronic Authorization to Test (ATT). You will receive information about scheduling and proper identification that is required at the testing center.
The cognitive exam
The National Registry cognitive exam is a Computerized Adaptive Test (CAT), an individualized, precise test adapted to each candidate's level of skills and knowledge. A passing standard, which is the same for all candidates at their level of certification, is used to determine if a candidate passes or fails the exam.
The cognitive exam covers the entire spectrum of lessons taught in the EMR course, including these five components:
Airway, Respiration, and Ventilation
Cardiology and Resuscitation
Trauma
Medical, Obstetrics and Gynecology
EMS Operations
Once all aspects of the certification and application process have been successfully completed, you will receive your EMR certification and are ready to pursue your career!
Working in EMS is an interesting and challenging field, but a rewarding one. The EMR is a great place to get started and learn how far you want to go in the field and can lead to other avenues in the medical profession.
If you need help studying for the cognitive exam, online study prep is a useful and convenient option. Pocket Prep has created 500 practice questions covering all aspects of the EMR exam in its EMS Pocket Prep app.