​​The veterinary industry has seen some fairly significant changes over the last two years while practicing during COVID-19 restrictions. The job for veterinary technicians has been difficult, but also rewarding in many ways.
While adapting to 'new normals' has been a challenge, it has provided the opportunity for alterations in the methods that veterinary services are provided, including curb-side service and telemedicine. Increased responsibilities and rewards have occurred for veterinary technicians, and more clinic managers and veterinarians are realizing how valuable skilled technicians are to the practice.
Opportunities with increased continuing education and higher levels of certification are being explored to provide a bridge between the veterinary technician and the veterinarian. As staff shortages continue to be a problem, creative thinking to utilize the skill sets of technicians is becoming more common.
Looking back on 2021 
All that said, it has been a tough year. Actually, it's been a tough year following a tough year. It seems that things might be settling into what we consider to be our new 'normal' in the veterinary field, whether we like it or not.
We are almost two years into the changes that were abruptly forced upon us when COVID-19 restrictions became a harsh reality, and there have been some remarkable changes in the veterinary industry as a result. Veterinary staff and doctors have had to make some alterations to the way that veterinary medicine is practiced, the methods through which service is provided to clients, and the way that pets are being taken care of.
When COVID-19 began
During the first months and into the first year of COVID-19, it was strongly established that veterinary medicine was an essential service. Veterinary clinics had to quickly adapt to curb-side and tele-health services, which made for some interesting conversations.
While some clients were very understanding and patient, others… not so much. Everyone had to adapt and adjust – pets, their owners, and staff.  Over the last two years, some of the notable changes will likely become permanent changes to how veterinary service is provided.
Curb-side service benefits
While curb-side service was a bit awkward at first, and people had a difficult time getting used to not being in the building while their pet was being examined and treated, many clients realized how convenient it was to drop their pet off for services.
This is a trend that is much more prevalent today than it was three or five years ago and seems to be much more popular in general now than in the past. One advantage to the veterinary technician with this change is being able to schedule more appointments with increased efficiency.
With drop-off appointments, the technician and doctor can see those pets when they are able to, in between or around physical appointments. A quick round of shots can be accommodated in between longer visits.
Tele-health for pets
Tele-health is another service that was underutilized before COVID-19 restrictions became our new normal. It is quickly becoming a more common method for helping clients and their pets with situations that may be able to be taken care of at home.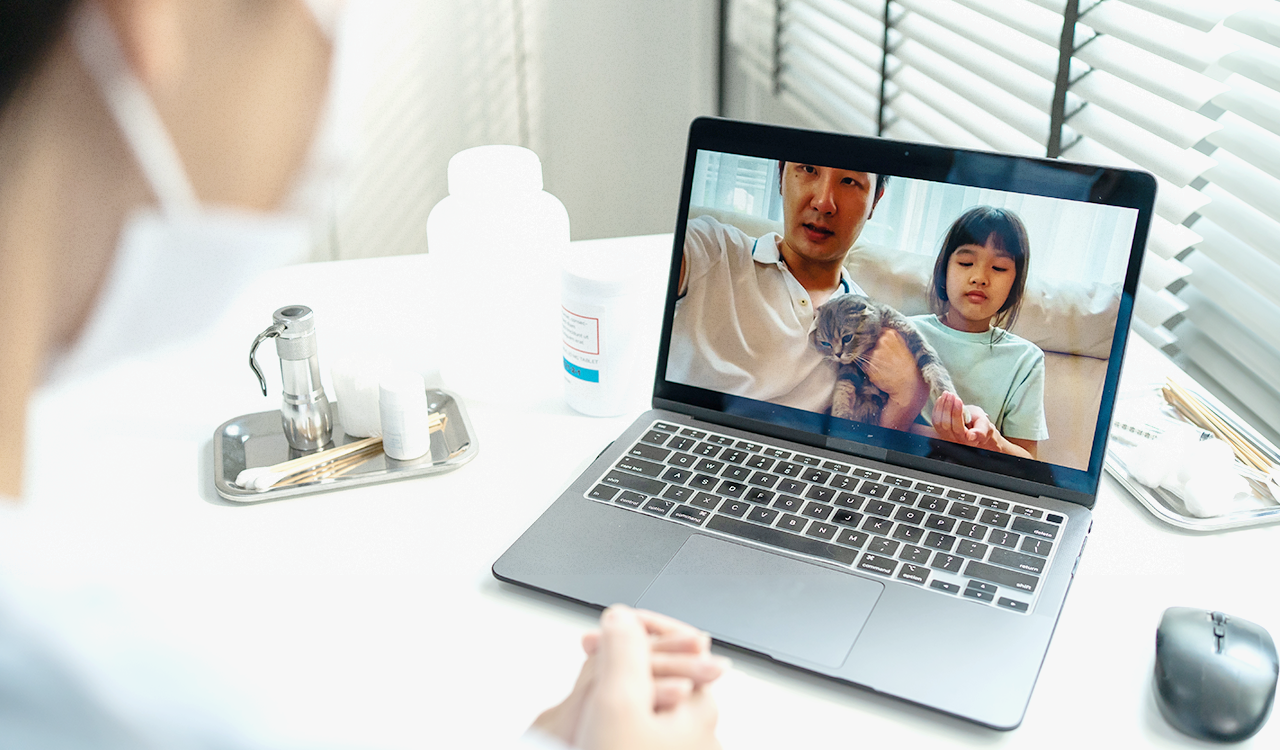 Rechecks and follow ups, prescription refills, and triaging are all services that can now be provided by veterinary staff through the use of phone calls and video conference calls. We've found most clients appreciate this service. It's convenient for pet owners and reduces the stress some pets face when coming into a vet clinic.
Did COVID-19 bring in more pets? 
It's common knowledge that pets can have huge effects on our mental well-being. So when the stay-at-home order came, some people plunged into the pool of pet parenthood. There were even reports of empty shelters and pet stores as people realized that they needed that special fluff ball in their lives since they were going to be home more.
General interest in cats and dogs peaked during March/April of 2020, but there were also issues with pet abandonment. While the jury is still out on whether more pets were actually seen during COVID-19 times, it certainly has felt that way to staff at veterinary hospitals.
Compound the learning curve associated with adjusted services with limited staff and longer wait times, veterinary offices definitely felt busier since the pandemic hit.
Positive changes for veterinary staff 
The situation in veterinary clinics did give rise to some positive changes. Staff tends to be much tighter-knit. We are closer for having survived the last two years together. Cross-training occurred where it may have previously been put on the back burner, as staff shortages necessitated filling in for different positions and performing new tasks.
Wages, overall, seem to be rising for veterinary technicians, as veterinarians and clinic managers realize the importance of talented and smart technicians.
Improvements to retain talent 
Many clinics are starting to think outside the box and offering different employee benefits that they may not have thought about before – snacks, in-house continuing education, and looking at ways to help talented staff reach their full potential so that they can retain them. These are all things starting to become more common.
One opportunity worth monitoring involves certification for mid-level veterinary care providers. In 2019, the Veterinary Innovation Council started exploring the potential for a master's degree program offered through veterinary medical schools that would create the equivalent of a physician's assistant or nurse practitioner for the veterinary technician.
While this is still developing, the challenges and obstacles of practicing veterinary medicine for technicians during COVID-19 has opened the eyes of clinic owners and staff to what changes might be available to increase capabilities of veterinary technicians during shortages.
Workforce shortages and shifts in perceptions
There have been shortages in most industries during the pandemic, and it is certainly being felt in the veterinary field. During the last two years, job burn-out has been a very real problem. Increased client demands coupled with staff shortages and the challenges that we have been describing caused some technicians to leave the industry.
Thankfully, things do seem to be stabilizing in the veterinary field. Clients are more accepting of necessary changes and seem to be more grateful in general for the help with their pets.
Staff has learned to rely on each other and technicians are getting better trained. The veterinary industry as a whole is a compassionate one, and there are some very good resources for veterinary technicians and staff who are feeling overwhelmed or upset.
All teammates should be encouraged to talk about stressful situations, maybe vent a little, and it is very important to have a supportive team in place during these trying times.