You want to help people and are looking for a career in some sort of therapeutic endeavor. There are a lot of options out there so how do you decide which path to pursue?
Let's break down the different job functions of each and potential considerations that will help you choose where you want to go.
Occupational Therapy vs. Physical Therapy 
To be as succinct as possible, occupational therapy focuses on activities of daily living (ADLs) and physical therapy focuses on restoring or improving body movement.
Often occupational therapists (OTs) will spend time in their patient's home and get to know their daily routine. Does a patient need help adjusting to getting dressed after an injury? Does a new home environment change how a patient can move about their house? An OT will focus on both fine and gross motor skills to help their client move more easily.
Occupational therapy is the only profession with explicitly focused training on participation in everyday life.
Florence A. Clark, PhD, OTR/L, FAOTA
For physical therapists (PTs), they work with both acute situations like post-injury rehab or lower back pain and chronic conditions like multiple sclerosis or carpal tunnel syndrome. Their goal is to return the patient to as close to the previous level of movement and activity as possible and reduce pain.
Is there overlap? Yes. Both professions aim to improve the overall quality of life. A patient who recently had a knee replacement might see a PT for rehabilitation exercises and stretches. They also may engage with an OT to evaluate their home and add adjustments like grab bars in the bathtub.
Occupational therapist stats:
Average salary: $85,280 in 2020 according to US News
School required: Bachelors & masters from an accredited institution, as well as passing the NBCOT exam
School length: Masters programs are typically two years
Job outlook: 17% job growth from 2020-2030 as reported by the U.S. Bureau of Labor Statistics
Work environment: hospitals, schools, nursing homes, home health services
Physical therapist  stats:
Average salary: $91,010 in 2020 according to US News
School required: bachelor's & Doctor of Physical Therapy (DPT) passing board exams
School length: DPT is typically three years
Job outlook: 21% growth from 2020-2030 as reported by the U.S. Bureau of Labor Statistics
Work environment: private clinics, hospitals, nursing homes
Which should you choose?
That depends on the population you want to focus on and the environment you want to work within. Within each path, there are a myriad of specializations. For example, you could become an OT who specializes in post-stroke recovery. Or you could be a PT who focuses on pilates-based rehabilitation practices.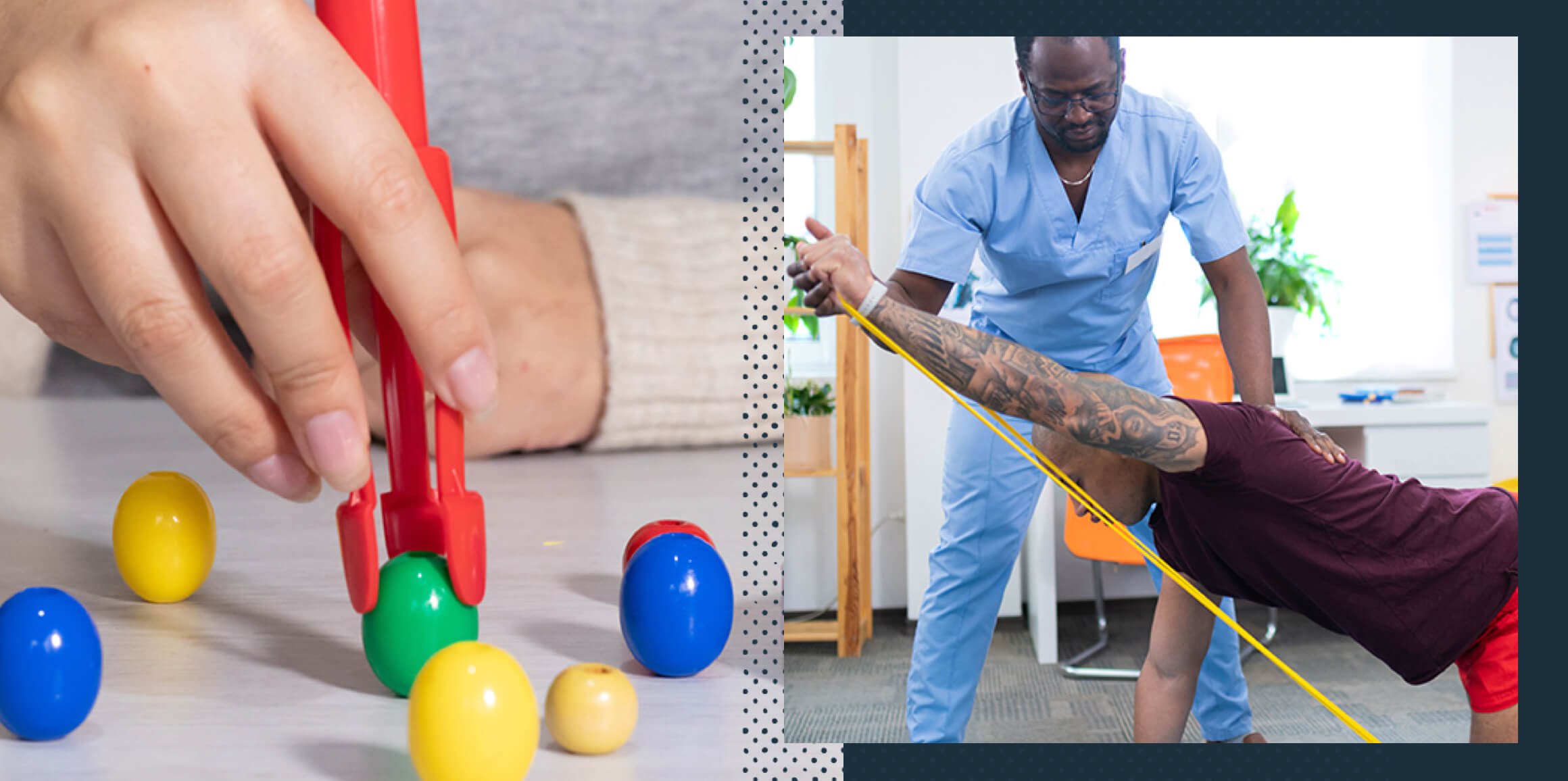 OTs frequently work with older populations. According to WHO, by 2060, 1 in 6 adults will be older than 60 years of age. This is a population that benefits immensely from occupational care. On the flipside, OTs are vital in helping children with sensory, cognitive, or developmental disabilities.
Here are some questions to ask yourself when deciding:
Would you rather work in a hospital setting or a clinic?
Do you want to focus on strength and mobility, or would you rather help someone learn to use adaptive equipment?
Are you interested in working with athletes?
Are you fascinated by body mechanics and strength building?
Do you want to work with people who have mental or physical disabilities?
If you're still not sure which direction to go in, see if it's possible to shadow an OT or PT in your area. Getting a sense of the day-to-day activities will help you decide which profession is a better fit.
What other therapeutic certifications should you consider?
Speech Language Pathologist (SLP) is growing in popularity. This field is governed by the American Speech-Language-Hearing Association (ASHA). These clinicians work with everyone from infants to older adults. They deal with much more than just lisps. Common issues that SLPs help patients with include:
Swallowing
Understanding and responding to social cues
Cognitive disorders
Understanding non-verbal communication
SLPs generally have a flexible schedule with the ability to set their own hours. To become an SLP, you must have a masters degree in speech pathology, pass the PRAXIS exam in speech language pathology, complete a clinical fellowship, and get ASHA-certified.
There are a lot of additional certifications to acquire that compliment an OT or PT certification. A few examples are:
Assistive Technology Professional (ATP): The assistive technology field continues to evolve and grow. ATPs are up to speed on the latest assistive technology and how to apply it best for patients.
Aquatic Therapeutic Exercise Certification (ATEC): Aquatic therapy can be essential for some patients and provides an OT with more therapeutic options.
Certified Autism Specialist (CAS): Autism can have a wide range of implications for daily living. Autism specialists need specialized training and knowledge to meet the needs of their patients.
Certified Hippotherapy Clinical Specialist (HPSC): Hippotherapy uses horses to help people with both physical and mental rehabilitation efforts. For someone with experience with horses, this is a niche certification that can combine a love of all things equine with therapeutic practices.
This is by no means an exhaustive list. There are many more specialized certifications to look into.
Bottom line
If you want to help people and make a meaningful difference in someone's life, you can't go wrong as an OT or PT. Think about the differences between the two and decide which path is right for you.