On June 5, 2020, Pocket Prep affirmed its support for the Black Lives Matter movement and announced four separate initiatives the company is enacting in order to be an active participant in this critical civil rights movement.
One of those four initiatives was donating $10,000 to six organizations working to address racial and systemic injustice. We asked our current members to help us decide how to distribute the funds between these organizations, and the voting results are as follows: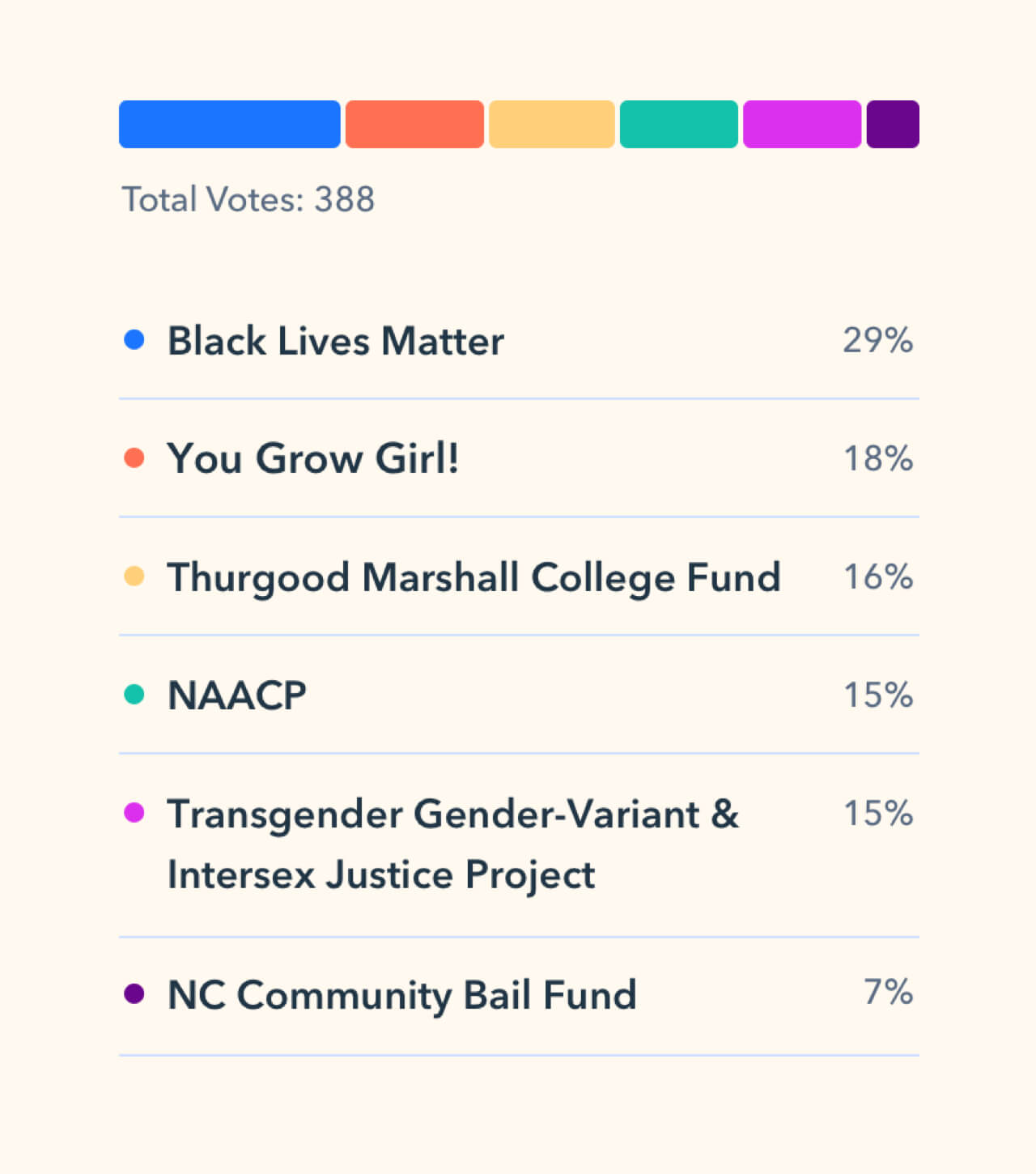 Black Lives Matter — 29%
Formed in response to Trayvon Martin's death, Black Lives Matter fights to eradicate white supremacy and build local power to intervene in violence inflicted on Black communities by the state and vigilantes.
You Grow Girl! — 18%
You Grow Girl!, local to the Seattle Pocket Prep team, empowers Black girls and families by providing comprehensive, wraparound services. Through their 'Whole Sister, Whole Family Pathway' adolescents, youth and adults are able to reach their authentic selves through the development of life skills, advocacy, and self-respect.
Thurgood Marshall College Fund — 16%
The Thurgood Marshall College Fund helps students with a clear intention to succeed acquire a high-quality college education at an affordable cost. TMCF distributes 98% of its awards exclusively to HBCUs and PBIs. It also connects high performing students with top tier employment opportunities—that students or employers might not have on their own.
NAACP — 15%
The NAACP's mission is to secure the political, educational, social, and economic equality of rights in order to eliminate race-based discrimination and ensure the health and well-being of all persons.
Transgender Gender-Variant & Intersex Justice Project — 15%
The Transgender Gender-Variant & Intersex Justice Project fights against abuses, imprisonment, police violence, racism, poverty, and societal pressures committed against Transgender, Gender-Variant, & Intersex people.
NC Community Bail Fund — 7%
The NC Community Bail Fund, local to the Durham Pocket Prep team, assists those who cannot afford their freedom by posting secured cash bail, advocating for unsecured bail, and supporting individuals through their journey in the criminal justice system — giving people a fair shot and returning them to their homes, jobs, and loved ones.
The $10,000 was donated across the six organizations in the distributions indicated above. The donations were made to each organization in July 2020.
In addition to these donations, Pocket Prep matched all employee donations made to organizations in support of the Black Lives Matter protests. We will announce the specifics around those donations in the coming weeks.
Our third initiative is to work with our local resources and communities in Seattle and Durham to have all of our employees partake in anti-racism workshops to ensure each and every one of us is doing our part in the workplace and beyond.
Our fourth initiative is to launch a scholarship program for people of color and minorities. The program will pay for the fees and supplies associated with acquiring certifications that require passing a career-defining exam. We are actively building this program now with a goal to launch in the fall of 2020.
Change begins with each and every one of us. Staying silent is no longer an option. We cannot and will not remain silent. Black Lives Matter.
– The Pocket Prep Team