Emergency nurses work in hospital emergency rooms and have one of the most varied experiences a nurse in a single position can have. Compared to most other types of nursing, my experience is that emergency nursing is often busier and less structured.
An emergency nurse may see 20 or more patients in a single shift and will help treat a wide variety of conditions in the many patients they do see.
How is Emergency Nursing Different From Other Types of Nursing?
Along with intensive care nursing, I believe emergency nursing is one of the most difficult types of nursing positions, requiring the most expertise. While intensive care nursing is difficult because it requires the deepest knowledge and understanding of diseases, emergency nursing is considered difficult because it requires the broadest base of nursing knowledge.
An emergency nurse may help treat broken bones, manage psychiatric emergencies, treat STDs, and help a gunshot wound victim all in the same day.
In a typical shift, I may see everything from the worst of traumas to the most trivial of complaints in everyone from newborns to the elderly. The huge variety of complaints and diseases that we see and help treat in the emergency room make us specialists in the emergency treatment of every type of disease and disorder.
How Do You Become an Emergency Nurse?
The absolute requirements for becoming an emergency nurse are pretty straightforward, however, most people will realistically need to meet other requirements to become an emergency nurse.
Technically, completing a degree in nursing and getting a job as an emergency nurse are all that is required, but practically you will often need additional experience to start a career as an emergency nurse.
Most people have two years of experience before getting CEN certified.
Most emergency nurses, including me, have followed this basic career path.
1.Get Accepted Into Nursing School
Most nursing schools are competitive, and getting accepted into nursing school will usually require not only a high school diploma or GED, but also a placement test that ranks you against other applicants. You may also need to complete some college-level prerequisite courses to gain entry into a nursing program.
2. Complete Nursing School
One you have been accepted into a nursing school program, you will need to complete your nursing education. Nursing school is rigorous, and completing your nursing program will likely take a lot of time and effort as you learn to make life and death decisions. Nursing school will involve a lot of classroom-based learning, but will also include clinical rotations that teach you the practical skills you need to become a nurse.
3. Pass Your NCLEX
Once you complete nursing school, you will have to pass the National Council Licensure Examination (NCLEX). This nationally-recognized exam is the last step in officially becoming a registered nurse. This exam will be challenging, but a good nursing school and proper study will prepare you for taking and passing the NCLEX.
4.Obtain Your Nursing License
The final step in being able to legally practice as an RN will be to get your nursing license from the state you plan on practicing in. For most states, completing nursing school and passing the NCLEX are the main requirements to get a license, however, without completing this last step you are not legally prepared to practice nursing.
5. Get Your First Nursing Job
Once you are legally able to practice as a nurse, you will need to get your first job as a nurse. While some newly graduated nurses may be able to get a job in an ER right out of school, this is the exception to the rule. Most new nurses will need to get a job on a general medical surgical floor or another hospital nursing job that is less specialized.
Managing your time as an emergency nurse will be difficult initially, but will be an easier adjustment if you already have previous nursing experience. For this reason, most ER managers prefer you have previous experience in nursing before starting as an emergency nurse.
6. Get an Emergency Room Nursing Position
Once you have at least a year of experience as an RN, you'll be better positioned to get a job as an emergency nurse. Getting your first ER position as an RN will make you an emergency nurse. While there will be ER-specific training, most of this training will be provided by the hospital through classes and through an orientation process that will normally last about two to three months.
7. Obtain Your CEN
While not necessary to be an emergency nurse, obtaining your board certification as an emergency nurse solidifies your background and experience in this specialty. Obtaining your CEN requires passing a test to evaluate your emergency nursing expertise.
My experience has been that people who are successful in passing this test have at least two years of experience as an emergency nurse; I gained my CEN after about two and a half years of emergency nursing experience.
Less than 10% of emergency nurses have their CEN, and having this certification indicates expertise in this nursing specialty, helping you to stand out in this field.
How is Being a CEN Different From Other Nursing Certifications?
The certified emergency nurse specialization (CEN) is a credential provided by the Board of Certification for Emergency Nursing (BCEN) and is the most common credential provided by the BCEN. The CEN is an official certification that allows the nurse who has earned the credential to include the initials "CEN" after their name when listing their formal educational achievements.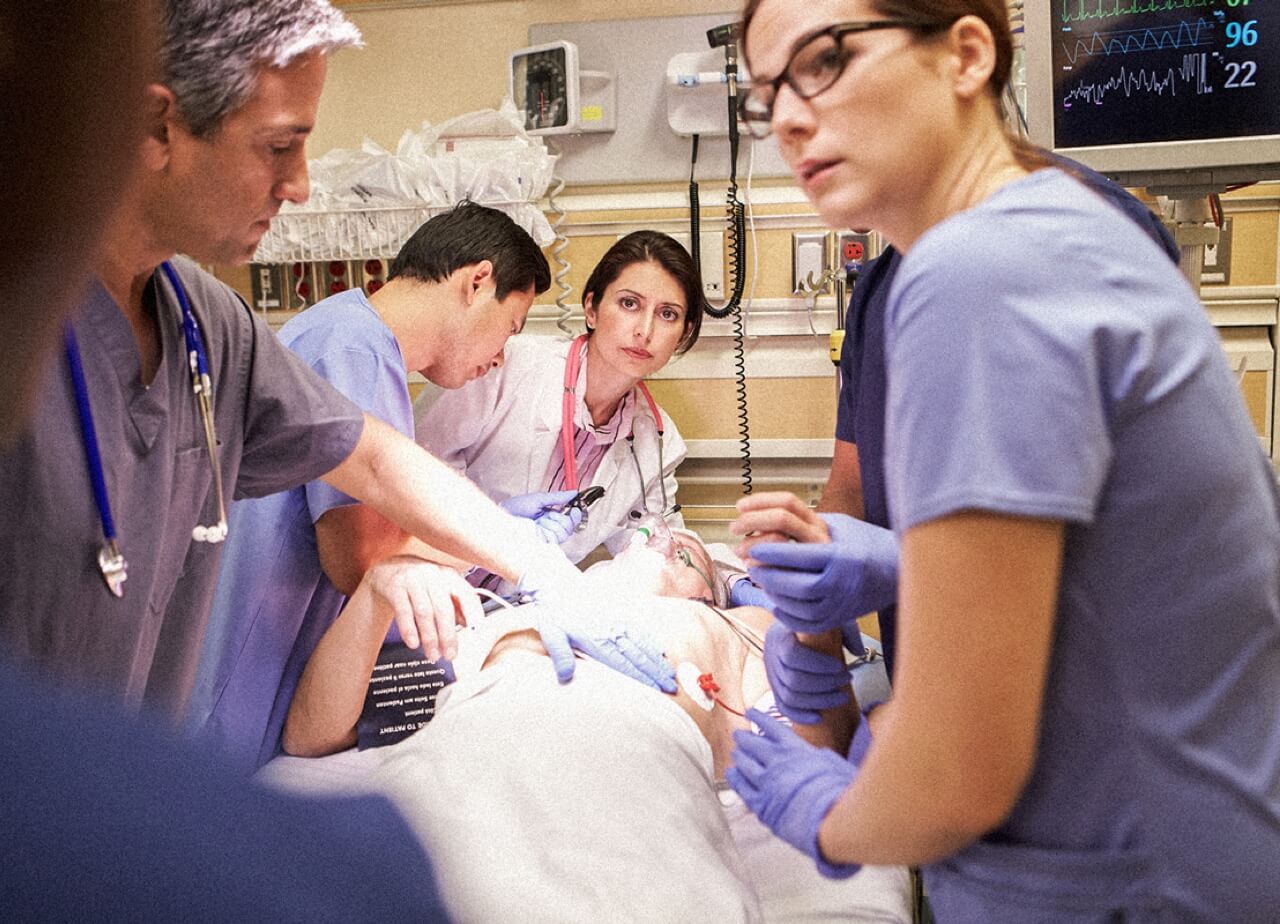 The BCEN also provides four additional emergency-related certifications, as well as the CEN. These are more specialized certifications in areas such as trauma nursing or pediatric emergency nursing. Nurses who earn one of these highly-specialized certifications will normally earn their CEN first.
These additional certifications are uncommon for emergency nurses to have and indicate a high degree of specialization. With both my CEN and my trauma certification (TCRN), I have found that advanced certifications enhance your credibility and improve your career opportunities.
What Does a Typical Day as an Emergency Nurse Look Like?
One of things that most emergency nurses enjoy about our specialty is that there is no such thing as a typical day. The most mundane of days in an ER can rapidly change in seconds when a patient goes into cardiac arrest outside of the doors of the ER. Emergency nurses are always prepared for the unexpected and ready to respond to rapidly changing situations.
A normal day may literally include helping put a toddler on life support, then walking into the next room and treating a sprained ankle.
While each day as an emergency nurse is always different, the basics of each patient interaction are the same.
The emergency nurse will assess the patient, determining what is likely to be causing their complaint and how serious the complaint is.
The nurse will determine what immediate tests and treatments are likely to be needed. For critically ill patients this can be extensive, while for someone who has a common illness this is likely to be quite minor.
The nurse will provide tests and treatments that are ordered by the doctor once they have seen the patient. Emergency nurses are often able to act more autonomously than other nurses, anticipating tests and treatments that are needed before they are ordered.
The emergency nurse will provide teaching to the patient. If they are being admitted to the hospital, the teaching will be related to what to expect with the admission, while patients who are being sent home will be taught how to take care of their condition after they leave the ER.
While these core parts of each patient interaction are almost always present, each part of the interaction varies significantly based on the patient's reason for coming to the ER.
As an emergency nurse, one of the most interesting parts of the job is the huge variety of things that we encounter. I have seen some very rare and unusual medical conditions, including a patient who had two uteruses and a patient who had a rare genetic disorder that gave them insatiable hunger.
A normal day may literally include helping put a toddler on life support, then walking into the next room and treating a sprained ankle. Most emergency nurses enjoy the unpredictable, interesting aspect of our field of nursing.
Is Becoming an Emergency Nurse Worth It?
Most emergency nurses I know would agree that a career in emergency nursing is definitely worth it. The rapidly changing pace, ability to practice nursing at its most complex, and ability to make a lasting difference in the lives of people with emergent health needs creates a high level of job satisfaction for those who pursue a career in this area.
Above all else, emergency nurses' ability to use their high level of skill to improve the health and well-being of their patients makes this specialty an exciting and fulfilling career path.
Related Questions
How Long Does It Take to Become an ER Nurse?
Just how long does it take to become an ER nurse? The journey varies per individual, but generally, it's a 4 to 6 year process.
This includes 2-4 years to earn a nursing degree (ADN or BSN), several months to prepare for and pass the NCLEX-RN and get your nursing license, typically 1-2 years gaining experience in a less specialized nursing role, and a few more months of ER-specific training.
Achieving your Certified Emergency Nurse (CEN) certification, if you choose to pursue it, usually requires a minimum of two years of emergency nursing experience. Despite this timeline, the journey is deeply rewarding, offering unique opportunities to make a significant impact in emergency healthcare.