The simplicity that technology brings into our lives couldn't be more appreciated than in times of life or death. Emergency medical professionals know all too well the role that effective and mass market technology can bring to society. Plus, it makes the jobs of these valued professionals easier and less dangerous.
Pocket Prep teamed up with a full-time firefighter and paramedic to understand the types of technology he and his team are using to save lives. From mechanical CPR devices that meet compression requirements to tiny cameras used for proper trachea intubation, Bob Beckham describes for us specific types of technology he's using every day on the job.
Introducing Our Contributor, Bob Beckham
I'm Bob Beckham and for the past nine years I have had the privilege to serve as a firefighter/paramedic for a progressive and forward-thinking fire department located in the suburbs of Chicago.
In my short career, I have been lucky enough to train with and utilize several pieces of equipment that have improved working conditions for fire-medics, thus allowing for better service to the public. I am also currently active on a local water rescue team which I will detail a bit more below. I'm here to explain some of the current technologies fire-medics are using that allow our department to work safer and more efficiently than ever before.
Proper Chest Compressions for CPR
For those that have ever taken a CPR class, you know how difficult it can be to compress at a rate of at least 100 compressions per minute and at least two inches deep according to the current standards from the American Heart Association. After receiving approval from our project medical director, in adherence to our resource hospitals standards, our fire department purchased a piston driven, mechanical CPR device that provides automatic compressions to patients that are in cardiac arrest.
The device is called the LUCAS Chest Compression System and allows paramedics to work more efficiently and without compromising individual safety. While using the device, paramedics can then focus on other vital tasks such as intubation, establishing an IV access, or drawing up cardiac arrest medication.
Using Cameras to Find Oxygen Pathways
While the LUCAS device is providing mechanical compressions, paramedics must obtain an advanced airway after basic life support adjuncts, such as an oral or nasal airway, are used. The process in which paramedics place an oral trachea tube is referred to as intubation.
Intubation may be considered one of the most difficult competencies that paramedics complete in the field under stressful circumstances. Luckily, all front-line ambulances and fire apparatus are armed with a video laryngoscope blade that features a light and a screen, allowing paramedics to view the trachea and vocal cords with ease. Paramedics simply place the blade down the throat of a patient and utilize the video feedback to assess the airway.
The days in which paramedics have to visualize vocal cords with the use of a mac or miller laryngoscope blade are over. With advancements in technology, arming medical professionals with something as simple as a camera has become practically a standard in patient treatment.
Extracting Persons from Vehicle Accidents
When car accidents occur, they can generate a great deal of force on both the vehicle and the people inside. Depending on the speed the vehicle was going upon impact, the vehicle make or body style, and the location of impact, people may become entrapped within their vehicle and require medical services to be extracted.
There are many different tools that are available for fire departments to use depending on the type of extrication needed, and the rescue tools can come in varying models, sizes, and uses. My fire department currently has a new battery-operated auto extrication tool called the EVO 3 that allows firefighters more versatility while cutting and spreading cars.
While many tools of this kind have previously been limited by the length of the hydraulic hose that is attached to a power unit, the EVO 3's lack of a cord creates added versatility in using quickly and efficiently. The on/off switch feature also allows for great maneuverability during an extraction, and the lighter weight of the device allows firefighters to manipulate crushed steel more quickly and safely.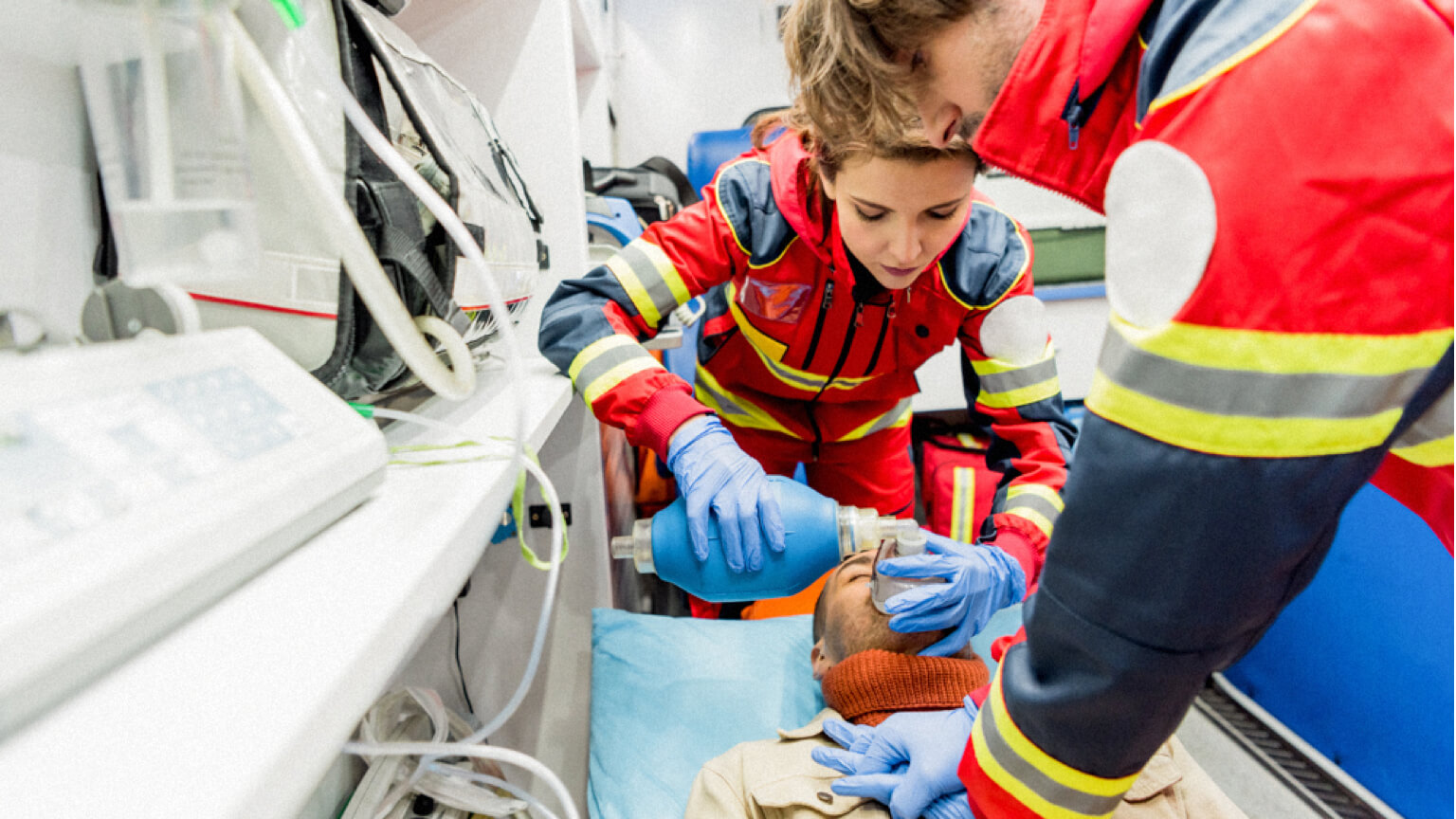 Hydraulic Cots Eliminate Patient Lifting Injuries
Any time a patient requires medical assistance by a paramedic, or needs to be transported to a hospital via an ambulance, they are placed into a cot or stretcher with wheels. These mobile cots have been significantly improved through technological upgrades over the years.
Earlier in my career, paramedics were required to physically lift a cot with a partner. Even today there are still many fire departments that currently use the same stretcher that has been a staple in emergency medical services for the past 20 years. These stretchers pose a great threat to the physical health of the paramedics and the safety of the patient. There have been a number of firefighters and paramedics that have suffered from career ending injuries due to the limited capabilities of older model stretchers.
Luckily, Stryker has developed a hydraulic "power cot" that allows paramedics to lift patients with the press of a button. Paramedics can now avoid physically lifting patients into an ambulance, thus creating less chance for injury and improving safety conditions for patients.
Rescue Diving With Nimble Gear
The Chicagoland area is surrounded by bodies of water. From small ponds and streams to large lakes, including Lake Michigan, water is all around us. The water rescue team I am a part of is made up of several disciplines including dive, sonar, and swift water. Fire department dive teams are typically comprised of a handful of men and women that represent a small percentage of the department as a whole.
The equipment that these diver's use must be thoroughly inspected, tested, and trained with. Any time a diver enters the water, their life is dependent on their equipment. When people think of scuba diving, they usually envision blue water, clear skies, and exotic aquatic life. This type of atmosphere is completely different from the water fire department divers must dive into. We are often tasked with navigating murky and dirty lakes or ponds with incredibly low visibility, a dangerous task for the divers as well as those tracking from above.
Interspiro has created a system called the Divator DP1 that allows divers to source their air from the surface instead of a compressed tank. This freedom in not being restricted to a finite amount of oxygen allows divers to stay underwater indefinitely. The scuba packs that the divers must wear are also lighter, making them much safer and easier to wear than the 3,000 PSI steel tanks that are typically used in recreational dives. Although the system comes with a hefty price tag, it provides added safety to specialized rescue teams with inherent risks.
Technology Saves Lives & Creates Better Working Environments
Advancements in technology not only allow patients to receive better care, but they also provide medical professionals with a safer and more enjoyable work environment. Having the right tool for the job can be the difference between life and death, and the industry can expect to see continued advancements across all medical sectors for decades to come.
According to the Bureau of Labor Statistics, "the employment of emergency medical technicians (EMTs) and paramedics is projected to grow 7 percent from 2018 to 2028, faster than the average for all occupations. Emergencies, such as car crashes, natural disasters, and acts of violence, will continue to require the skills of EMTs and paramedics. The need for volunteer EMTs and paramedics in rural areas and smaller metropolitan areas will also continue."
With the EMS industry on the rise and technology continuing to add benefits and ease to daily duties, now is a better time than ever to consider joining the industry. Many training programs can be completed in under a year and the testing required is straightforward and simple to access.
Preparing for Working in the EMS Sector
If you've already considered entering the EMS field, Pocket Prep provides testing and exam preparation spanning the firefighting, paramedic and emergency medical technician fields. We too incorporate all the best aspects of technology to create easy-to-use and on-the-go mobile test preparation for career-defining exams.
Just like firefighters and paramedics rely on technology to simplify their lives, we believe you shouldn't have to lug around heavy textbooks or be restricted to a desk to study. That's why we created an effective and engaging study tool that works from the comfort of your phone. Our test prep apps are available on Apple and Android devices. All of our apps are free to download and feature introductory content at no cost. We make it affordable to ensure you feel confident and prepared for your exam.
Pocket Prep offers preparation for the Emergency Medical Technician (EMT) and Advanced Emergency Medical Technician (AEMT) exams from the National Registry of Emergency Medical Technicians® (NREMT®). Combined, over 286,000 people have prepared for their EMS industry exams using Pocket Prep.
Our Firefighter 1 & 2 Exam Prep features 725 practice questions covering 24 different content areas spanning Building Construction, Fire Behavior, Tactical Ventilation and more.
The NREMT Paramedic Exam Prep features 600 practice questions covering 6 content areas including Airway, Respiration & Ventilation, Cardiology & Resuscitation, Trauma, Medical & Obstetrics/Gynecology and EMS Operations.