If you're in the fitness world, it's likely you've heard of Certified Strength and Conditioning Specialists (CSCS). It's a very common certification among collegiate and professional athletic organizations.
In short, the CSCS certification is for individuals who want to work with athletes. The certification is described as using scientific knowledge to improve athletic performance. CSCSs employ sports-specific testing and help athletes train to avoid injury.
Offered by the National Strength and Conditioning Association (NSCA), the CSCS is one of a few fitness certifications that require a four-year degree. It's also considered one of the more difficult certifications to get.
Why get the CSCS Certification?
If you want to work with athletes – student, collegiate, or otherwise, getting your CSCS is almost a non-negotiable. The National Collegiate Athletic Association (NCAA) created new requirements for their strength coaches in 2014. The NSCA CSCS certification meets their new criteria for becoming an accredited strength coach.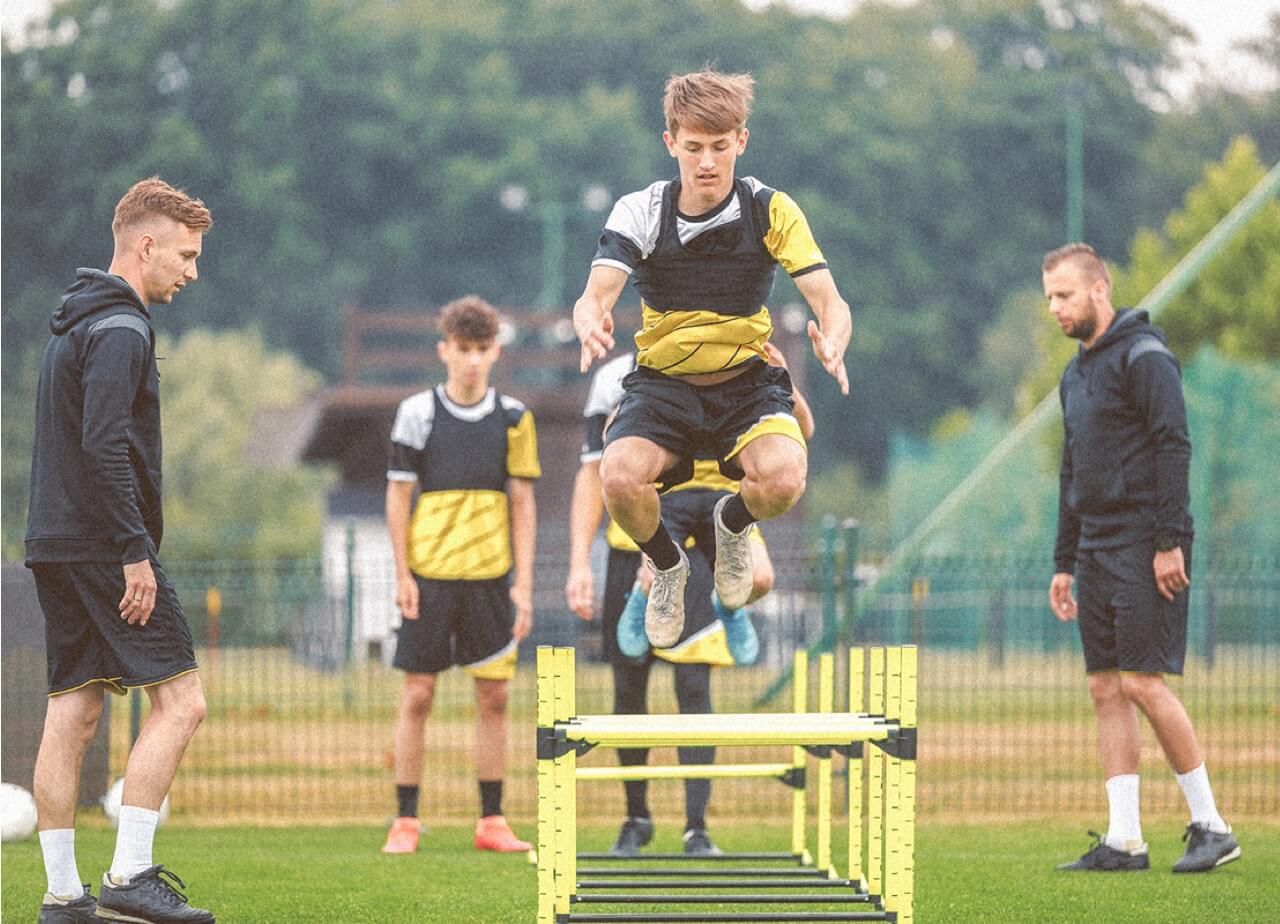 The NSCA was established in 1978 and offers many different fitness-related certifications – several of which (TSAC-F, NSCA-CPT, CSCS) are accredited by the National Collegiate Athletic Association (NCAA).
The CSCS was the first strength and conditioning program in 1993 to earn NCAA accreditation.
Accreditation by the NCAA means a program meets or exceeds standards and expectations. It's almost guaranteed that any strength coach at a university or elite sports program will certainly have their CSCS.
What if I don't want to work with athletes?
While the CSCS certification has many ties to NCAA sports, the general trends in fitness have been shifting in favor of strength training. How many of us were fighting over adjustable dumbbells and hunting down squat racks online when gyms closed during the height of the pandemic?
Now, many non-athletes are looking to strength training as a main form of exercise – both at home and at the gym.
Many personal trainers who don't work exclusively with athletes are CSCSs and work within the general population. There are currently over 40,000 individuals worldwide who are certified as CSCS.
Physical therapists also benefit from getting their CSCS. Since physical therapy is always tailored to the client's needs, the concept of sports-specific testing and planning backed by scientific study makes a lot of sense in devising a treatment plan. Again, with the increased prevalence in strength training across the general public, it makes sense for PTs to incorporate strength and conditioning planning into their treatments.
What are the prerequisites?
Like all NSCA certifications, the CSCS has specific requirements in order to sit for the exam. Candidates must meet the following criteria:
Have a Bachelor's degree or higher degree OR currently be enrolled as a college senior at an accredited institution
Have a current CPR/AED certification
Fun fact: starting in 2030, eligibility to take the CSCS requires a candidate's Bachelor's degree from a program accredited by an NSCA-approved accrediting agency. It is still TBD on what those approved agencies are.
What's on the exam? 
The CSCS exam has two parts – scientific foundations and practical applied. Here is a high-level breakdown of the content and what % of the exam it represents.
Scientific Foundations
This section of the exam has three separate domains and includes 80 multiple choice questions plus 15 non-scored questions. You have 1.5 hours to complete this section.
Exercise science – 55%
Sports psychology 24%
Nutrition – 21%
Practical Technique
The practical technique section has four domains and includes 110 multiple choice questions plus 15 non-scored questions. You have 2.5 hours to complete this section.
Exercise technique 36%
Program design – 35%
Organization and administration – 11%
Testing/ongoing monitoring and data evaluation – 18%
You can view a detailed content outline of the exam.
How long should you study?
Your preparation for the CSCS will heavily depend on your background. If you majored in an exercise science-related field, you already have a lot of working knowledge. If you've also interned somewhere, even better.
The NSCA put together a guide for how long it might take you to prepare based on your background knowledge and experience.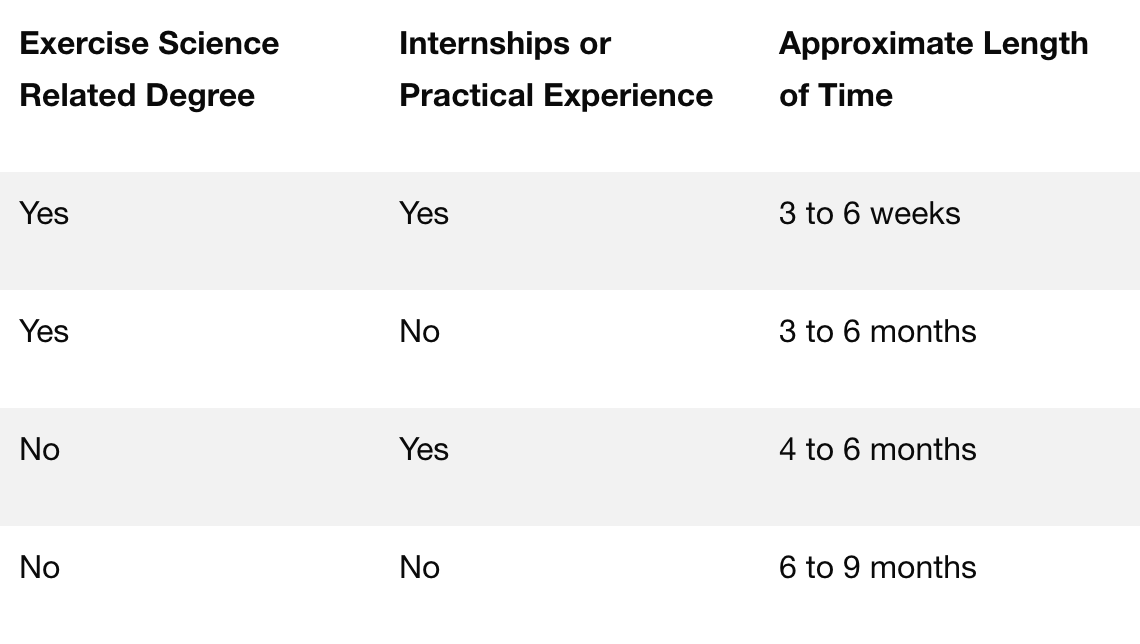 In 2019, the past rate for first-time candidates was 63%.
Job outlook with CSCS certification
Since the main goal of this certification is improving the performance of athletes, many CSCSs choose to work with schools or athletic teams. In fact, as the CSCS has grown in popularity and prestige, those who hold the certification have considerable influence in the way athletics change.
In a study by the Human Performance Laboratory at Ball State University, they looked at the growth of high school strength and conditioning facilities. The study noted:
"Athletic administrators at the high school level need to recognize the impact CSCS program leadership can have on the overall quality of the strength and conditioning program and facility."
The CSCS is a worthwhile certification and one that requires ample preparation. Put in the work now and you'll see career advancement opportunities for years to come.