Personal vehicles are synonymous with American life. With a spread out country and lagging public transport, many of us rely on our personal vehicles to get to work, pick up groceries, and maintain childcare. In fact, 93% of American households have access to at least one car, according to the Federal Highway Administration.
Lots of cars means lots of car maintenance. Cars are machines and machines need proper care to stay functional. Even though the industry is changing due to technological advancements, automotive mechanics are still needed. But when you go to get your oil changed, you probably don't see much diversity in the workforce.
So where are all the women?
The automotive industry has typically been a male-dominated one. Research by Zippia found that only 4.9% of all auto mechanics in the U.S. are women. Only 17.9% of auto dealers are women. Women are so underrepresented in the industry, yet who is actually buying the cars and getting oil changes?
Turns out, more than half of all car purchases are made by women and two thirds of maintenance visits are made by women.
Perceptions of the automotive industry
When most of us think of a mechanic, a portly 40-something white man is often what pops into our heads. Numerically – this isn't wrong. Zippia's research found that the average age was 40 and 66% were white.
A 2018 Deloitte survey looked at why women weren't entering the automotive industry. Their survey reported that 65% of women found the environment to be unappealing and 59% perceived a lack of work/life balance.
The same survey from 2020 asked participants if women were underrepresented in leadership within the automotive industry. No surprise – 90% said yes, women are underrepresented.
Why women in the auto workforce will elevate the field 
As our communities increase in diversity, so too should our workplaces. Unfortunately, white, male-dominated industries are still all too common. Aside from the moral and ethical reasons to increase diversity, there is research that suggests more diverse workplaces perform better than their less diverse counterparts.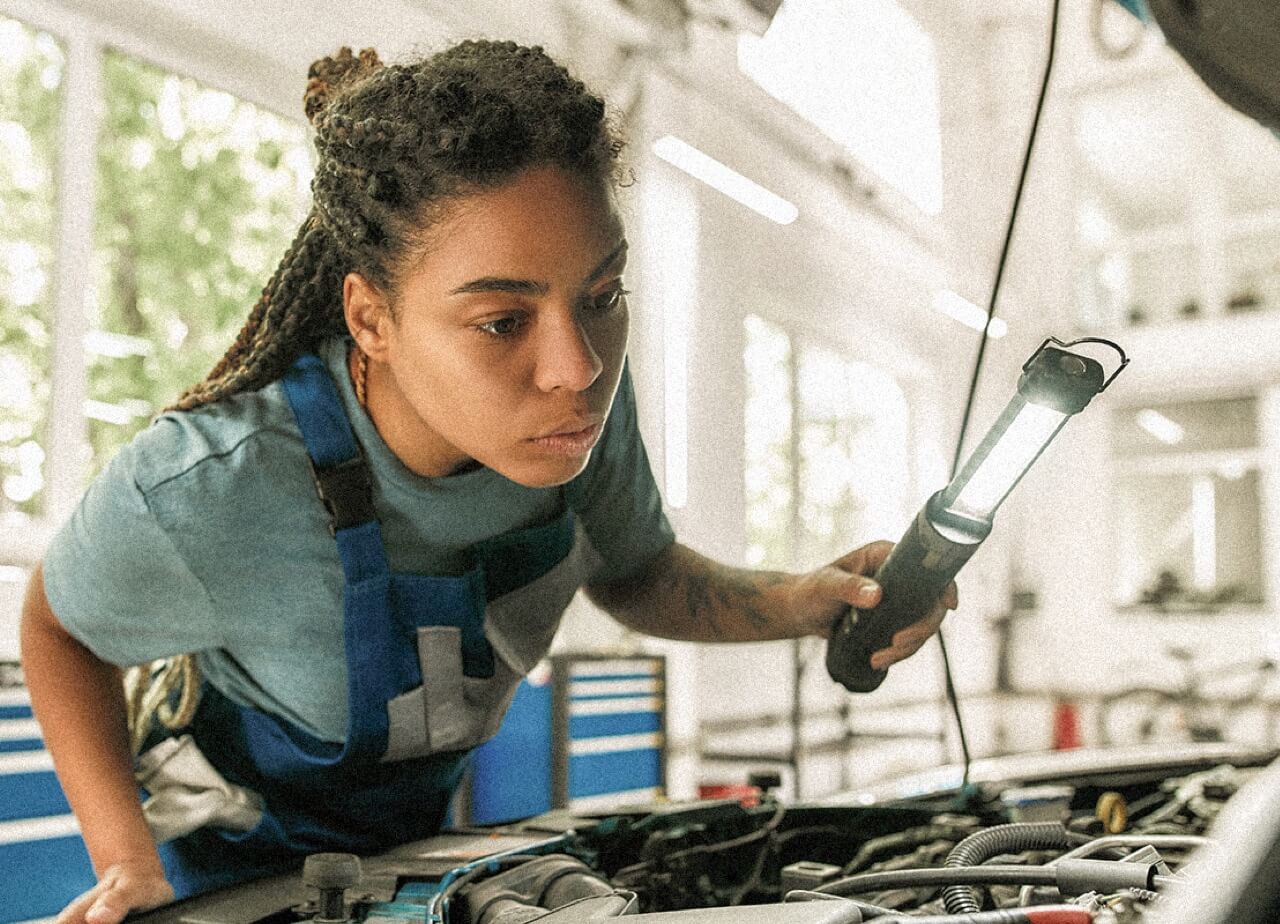 This research has shown that workplace diversity can increase productivity by 35%. A study by Boston Consulting Group found diverse workplaces increased revenue by 19%.
So, the numbers support diversifying the workforce, but why isn't it happening in the automotive industry?
What does this mean for the future of the automotive industry? 
If you identify as female and are considering getting  into the automotive industry, it's not all doom and gloom. Yes, women are underrepresented in leadership and we need more female leadership to enact lasting change, but the only way to do that is for more women to enter the industry.
How do you get started? Here are some helpful resources specifically created for women in automotive:
Girls Auto Clinic
Outside of Philadelphia is a Black women-owned auto business Girls Auto Clinic. Owner Patrice Banks works to empower women in the automotive industry, both through general automotive knowledge and facilitating spaces where women are heard. She's also created the Women of Color Automotive Network which connects women of color with mentors and resources to be successful in the industry (see more below).
Women Auto Know
Audra Fordin has been working in the automotive industry for 27 years. She owns and operates her family's fourth generation automotive repair shop in New York and founded Women Auto Know. She connects women with automotive knowledge and resources in addition to offering workshops.
Automotive Women's Alliance Foundation 
The AWAF is a non-profit organization that is dedicated to the advancement of women in the automotive industry. They raise funds for academic scholarships for women. In 2021, they awarded 204 scholarships for a total of $509,500 in funding. Check out their scholarship page.
Women in Autocare
Autocare.org has created a section specifically for women in the field. Women in Autocare offers resources, mentoring, scholarships, and an annual conference.
Women of Color Automotive Network
WOCAN works to serve and connect women of color in the automotive industry. They offer a scholarship for continued education in partnership with The College of Automotive. They also host coffee talks about relevant topics.
General grants 
Trade schools and grants are a way to begin an automotive career. Trade Schools Future has a list of scholarships and grants available.
Summary
The proper resources are out there for anyone who is seriously considering entering the field, and more women are entering the automotive workforce, albeit slowly. The only way to enact positive change in the industry is to increase diversity. If you're passionate about the automotive industry, don't let industry or gender norms stop you.