Depending on the certification, personal trainers must get recertified every two or three years. A recertification doesn't mean re-reading the same textbook and taking the same test. Rather, the industry expects trainers to branch out and expand their library of exercises and methodologies as time goes on.
This ensures the trainer is up to date on the latest exercise science studies, strengthening their foundation while integrating new knowledge. Getting a certification in a new specialty – which would then count towards your recertification requirement – is also a valuable marketing tool, allowing the trainer to target a specific market and charge more for their specialized services.
If your recertification deadline is quickly approaching and you want to learn something new that makes you stand out, the ACSM exercise physiologist certification could be exactly what you're looking for.
Let's take a closer look at the benefits of becoming an exercise physiologist and how this differs from the standard personal training certification. We'll also discuss the details of the ACSM exercise physiologist recertification and how it can help your fitness career.
What do exercise physiologists do?
Exercise physiologists are responsible for standard preparticipation health screenings, cardiovascular and muscular testing, exercise program creation, and behavioral coaching.
Sounds like a pretty typical day in your current role as a personal trainer, right? Well, here's the thing: exercise physiologists have a very specific goal. Their  primary focus is helping largely healthy people with medically controlled diseases.
This means the disease is under control and the lifestyle changes that the exercise physiologist promotes are proven to be effective at ensuring the disease does not cause further complications, so long as the client continues to implement these changes.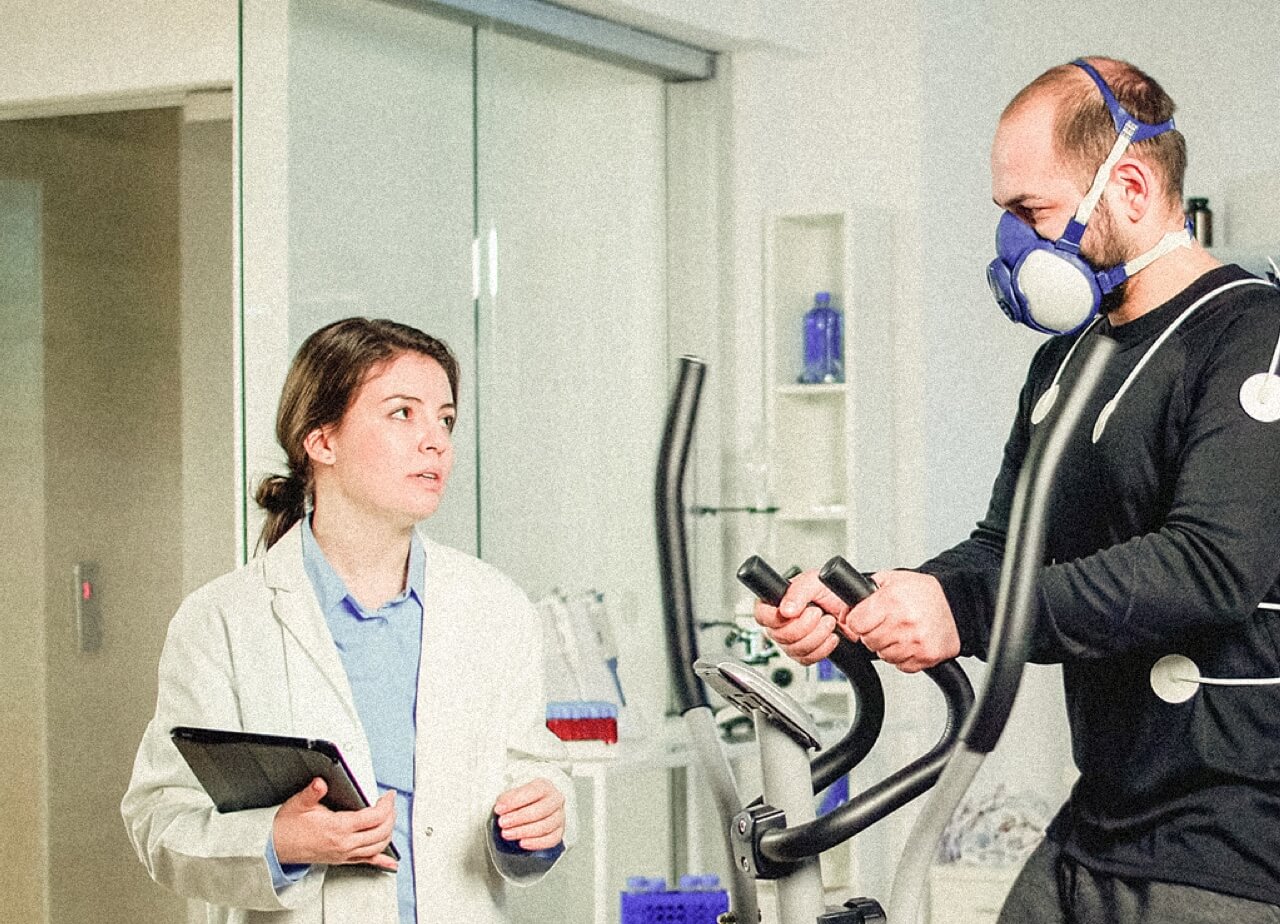 One of the most common examples of a medically controlled disease that an exercise physiologist deals with is cardiovascular disease. Considered a lifestyle disease that is largely preventable, the exercise physiologist will have to select appropriate assessments and exercises that coincide with the client's current health status and doctor recommendations.
For the cardiovascular disease scenario example, the trainer might begin with the Rockport Walk Test – an assessment of cardiovascular fitness that is not high intensity. When recommending exercises, the trainer might stay within the 50% to 65% heart rate reserve capacity until the client has progressed to a point when a higher intensity would be appropriate.
It's this focus on ensuring the disease stays away that requires the exercise physiologist to be far more hands on with medical history, check-ups, and long-term strategies.
Exercise Physiologists vs. Personal Trainers
A day in the life of an exercise physiologist and a personal trainer isn't that different.
Both specialities utilize testing to determine an appropriate program for a client to maximize fitness and overall quality of life. Both create programs based on this testing. Both implement training within these programs while administering behavioral coaching to ensure adherence.
Here's where things differ the most: Exercise physiologists will add the element of disease control to exercise programming.
As mentioned above, exercise physiologists usually work with clients who have a medically controlled disease, and the foundational goal is to make sure the client stays healthy without the reemergence of the disease symptoms.
What's more, given the fact that a Bachelor of Science (B.S.) in exercise science degree is required, it should come as no surprise that exercise physiologists either work in or plan to work in a medical field.
Comparatively, a general personal training certification does not need to be preceded by postsecondary schooling or training.
What is the ACSM EP certification?
The ACSM Exercise Physiologist certification is one of the most comprehensive certifications available for fitness professionals, allowing personal trainers and coaches to improve both their field of knowledge as well as their authority and reputation.
The EP certification exam tests knowledge of physical fitness, evaluation practices, and program planning. Those areas are also deeply affected by whatever condition or illness a patient has, so EPs must understand the various conditions or illnesses their patients face. Common condition categories include cardiovascular, metabolic, orthopedic, neuromuscular, and aspiratory.
If you're due for recertification and you have an interest in helping people live a life where they don't have to worry about an illness from the past, we recommend the ACSM exercise physiologist certification.
What's on the ACSM EP exam? 
The exam consists of 140 questions. 125 are scored and 15 are unscored. Those sitting for the exam will have a total of 210 minutes to complete the questions.
The types of questions follow three different styles – recall, application, and synthesis. These represent different levels of complexity that mimic what exercise physiologists will need to do on the job.
There are four domains on the exam:
Health & Fitness Assessment – 35%
Exercise prescription & implementation – 35%
Exercise counseling & behavior modification – 25%
Risk management & professional responsibilities – 5%
The ACSM provides a full content outline. The content outline also provides detail around which types of questions relate to which topics.
Summary
Becoming an exercise physiologist can be a great next step in your fitness career, or a good place to start if you're planning to get a B.S. degree.