Are you feeling stuck as you try to decide which Certified Personal Trainer (CPT) certification is the best one for you? I remember all too well how it feels to fall down the rabbit hole of web searches for the best personal trainer certification: frustrating.
I've been a NASM certified personal trainer for well over a decade, earning specializations in fitness nutrition and sports conditioning. I'm also a fitness writer and I've reviewed most of the big-name CPT courses.
I'm here to help you understand the differences between three of the most popular personal trainer certification courses out there, and help you determine which one could be the best fit for you and your career goals.
NASM vs. ACSM vs. NSCA: Program History & Offerings
Arguably, the top three certified personal trainer programs are the National Academy of Sports Medicine (NASM), the American College of Sports Medicine (ACSM), and the National Strength and Conditioning Association (NSCA).
All three programs are accredited by the National Commission for Certifying Agencies (NCCA), require continuing education credits or units every two or three years, and are respected throughout the industry. However, there are some key differences:
NASM
The National Academy of Sports Medicine is relatively new compared to the other two. Founded in 1987, NASM is a for-profit organization while ACSM and NSCA are both non-profit. The NASM-CPT certification is by far the most popular choice for studying personal trainers.
As a for-profit organization with trainers primarily found in a commercial gym setting, NASM is incredibly sales driven. On one hand, this is great because sales reps will explain the variety of the specialization workshops and courses they offer. On the other hand, the abundance of information and options can be overwhelming.
The NASM certification requires a recertification every three years while both the ACSM and NSCA are every two years. Each also allows for continuing education credits in lieu of retesting for recertification. Similar to the ACSM, the NASM is tailored towards corrective exercises and teaching function training, but the NASM has a distinct focus on program design due to its optimum performance training (OPT) model.
ACSM
Founded in 1954, the American College of Sports Medicine is the oldest and most established program for personal training certifications.
The ACSM is highly focused on the clinical side of training, offering certifications such as the Clinical Exercise Physiologist program. They are also a leading producer of studies and scholarly articles. In fact, most CPT courses, including NASM, reference ACSM's research in their own textbooks.
While NASM focuses on program design, the ACSM has a distinct focus on the scientific process and improving movement through kinesiology.
The best way to choose a certification program is to take into consideration your long-term career goals.
NSCA
Another well-established program for personal trainers, the National Strength and Conditioning Association was founded in 1978.
Similar to NASM, it has a focus within a gym setting, but this certification is geared towards coaches or those who want to help people become better athletes. Like ACSM, the NSCA CPT exam takes a very scientific approach to its fitness assessments, exercise prescriptions, and motivational techniques. NSCA also provides research-driven articles but they are written by certified trainers, not from scholarly journal publications.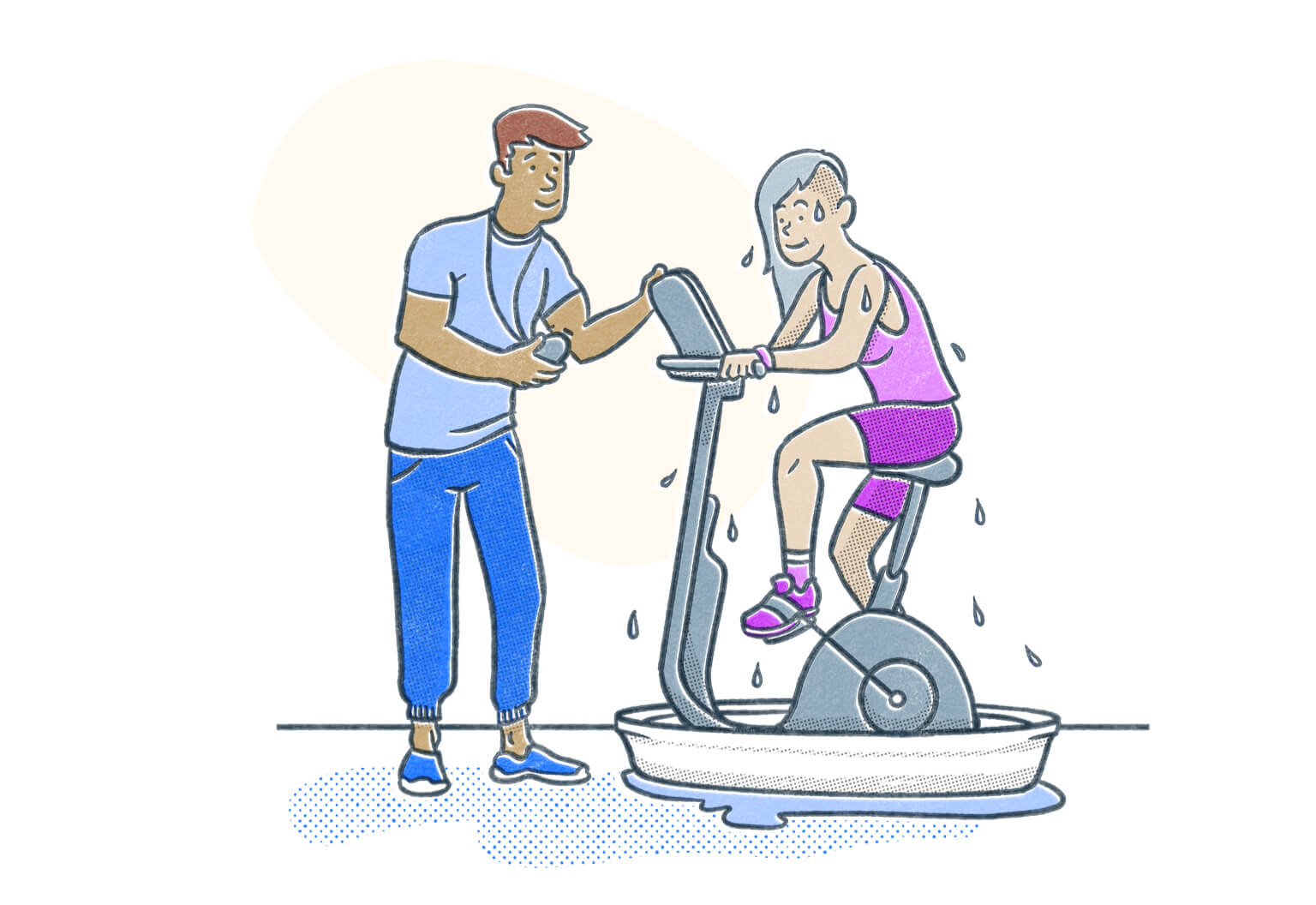 NASM vs. ACSM vs. NSCA: Career Goals
The best way to choose a certification program is to take into consideration your long-term career goals. I outline below where I believe each certification makes the most sense by skill focus and general interest.
NASM
NASM has a focus on developing a personal trainer who will thrive in a commercial gym setting. When I was studying for the NASM certification, I noticed a heavy focus on perfecting the assessment, program design, and exercise prescription for the general population.
From this experience, I felt that NASM could turn more attention towards special populations such as those with chronic illnesses, but overall the content was very focused on achieving the basics of providing personal training.
When I received my personal trainer certification from NASM and began working in big business gyms, everything I had learned was applicable. I dealt primarily with the general population with a few exceptions. It wasn't until I started a private personal training business that I had to step up my game to accommodate special populations such as older, obese, and chronically ill adults.
Who is the NASM Certification Best Suited For? Commercial trainers who want to get their feet wet and see what the fitness industry is like before pursuing higher degrees or specializations. Also ideal for those who want to work their way up in a commercial gym setting.
ACSM
After extensively reviewing the study materials for the ACSM certification, I noticed an immediate and lengthy focus on corrective exercise. Compared to the NASM content, the ACSM textbook provides an in-depth review of proper health screening, medical and fitness assessment, exercise prescription, and program design based on illness and correcting distortions and imbalances.
Everything from the breakdown of physical anatomy to the chemical processes during exercise has an importance to it. Safety and legal issues are also extensively covered, but sales techniques are not.
Who is the ACSM Certification Best Suited For? Since ACSM is recognized more within a clinical and university setting, this certification would be ideal for those people interested in pursuing a realm beyond the commercial gym setting. Personally, I think this certification is better for long-term goals within the clinical industry such as a physical therapist, chiropractor, and corrective specialist trainer.
NSCA
The NSCA certification is best described as a cross between the NASM certification and the ACSM certification with a distinct focus on athletic performance. The general population is covered, but there is a heavy focus on sports, performance enhancement, and athletics.
Specific areas of focus include how to train an athlete, the best ways to correct muscle or performance imbalances, and recommendations for sports recovery. With that said, the NSCA takes a more clinical approach to the information it provides.
Who is the NSCA Certification Best Suited For? The NSCA certification is ideal for trainers who want to go into coaching at the high school or collegiate level. While it is more clinical than NASM, it can't compare to the ACSM course, which is a good fit if your interests do not lie in medicine or a clinical setting.
Which Personal Training Certification Should You Choose?
It can make your head spin with the number of CPT courses that are available out there. Outside of choosing a certification that is well accredited and recognized by the types of organizations or companies you want to work for, determining the right CPT program for yourself also requires assessing and understanding the skills you presently have, and where you want to be in five or ten years.
Having the right study tools is also a critical part of the process. Going beyond the textbook, regularly quizzing yourself helps you understand and retain the information you need to pass your CPT exam. That's where a study tool like Pocket Prep can make the difference between a great test day and an anxious one.
---
Whichever CPT program you decide on, Pocket Prep has exam prep and practice questions for it that are easily accessible and on-the-go via mobile app. All apps are free to download and feature introductory content at no cost. Put your education in your own hands. It's your turn now.