Where I Started 
When I first received my Certified Personal Trainer textbook, I was so excited and got started immediately. But as I began to flip through my textbook, I saw words I'd never heard before, and concepts that seemed too difficult to understand. I felt crushed. How was I going to learn all this?
If this sounds familiar, don't worry. I was genuinely unsure if I would ever be able to pass this exam, but after a year of pushing it off, repurchasing a new program with better study tools, and finding Pocket Prep, I went into my exam with more confidence than I ever expected to have.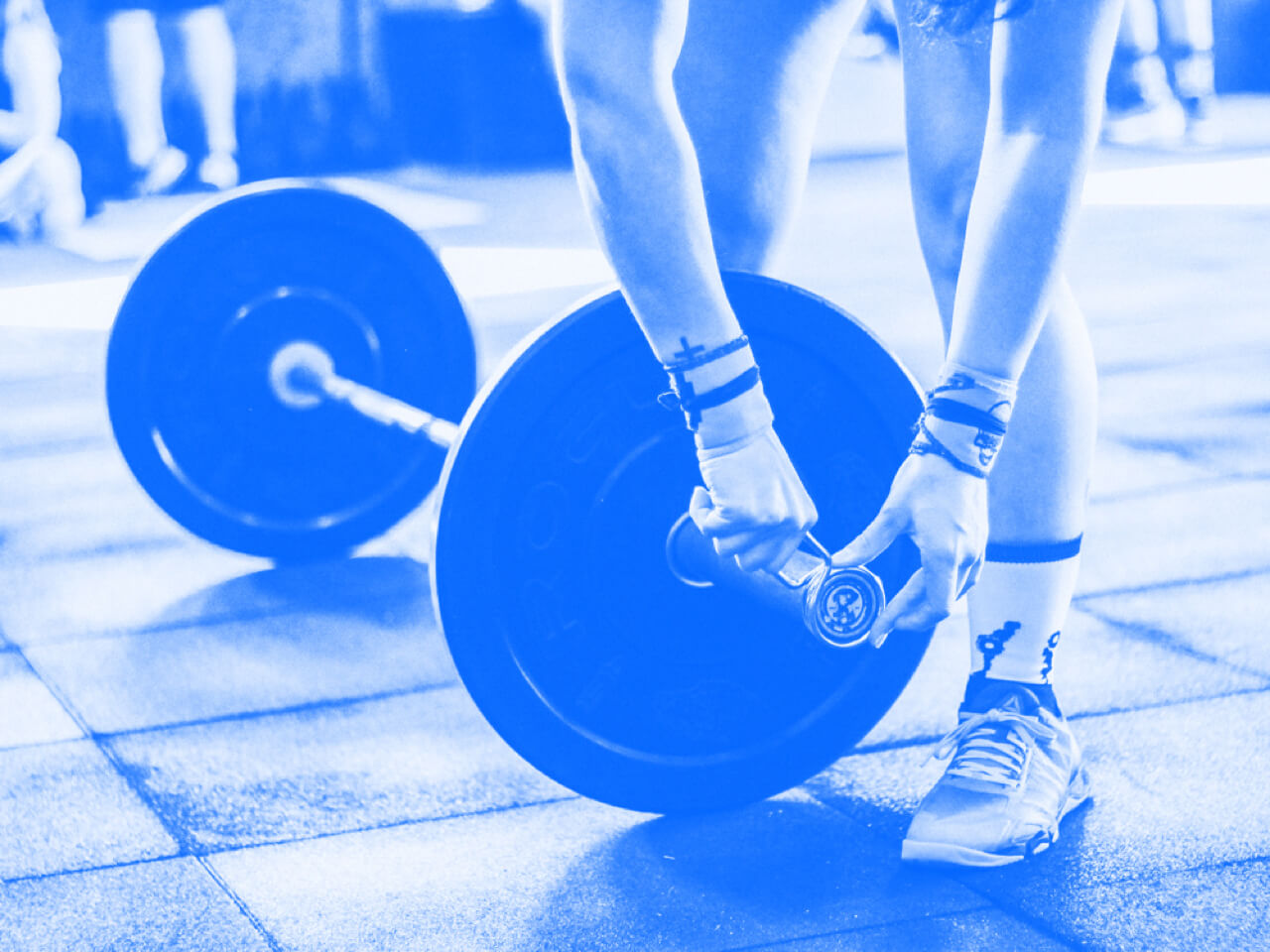 Plan Ahead
The first thing I did was to buy a planner and create a weekly study schedule. Not every week was the same, some weeks I got in three chapters, others just one, but I consistently studied every week. I went through each chapter, took detailed notes (especially on difficult concepts), completed any activities or quizzes in the chapter, and finally rewrote the most important concepts down into my planner which I take everywhere. 
The key concepts for the NASM CPT exam had to do with training phase details, which came in charts, and postural distortions, which I studied by pointing out the different muscles on my own body and naming which were shortened and which were lengthened. 
Being active in your studying, like physically pointing out the muscles, is great because it helps you relate to and retain the information better. 
Making Sure You Have the Right Tools
I highly recommend downloading Pocket Prep. This app made the biggest difference when it came to understanding concepts on the exam. The Pocket Prep Fitness Prep app has exam prep for many accredited certifications including NASM-CPT, ACSM-CPT, NSCA-CPT, NSCA-CSCS, and more! Once you choose your exam, you have the option of a free or paid membership. 
I chose the paid option because it gave me more questions and customizable quiz options (my favorites were the "missed questions" and "weakest subject" quizzes). It also provides explanations when you get a question wrong which helped me learn topics even if I missed it the first time. 
The questions are further broken into the major subjects on the exam, which is helpful as the app tracks which section you need the most help on. 
Study Every Day
Pocket Prep comes with a Question of the Day feature that tracks your progress on a calendar to help you see how you're doing. I had the notification set to remind me every morning so I could start my day off with a question.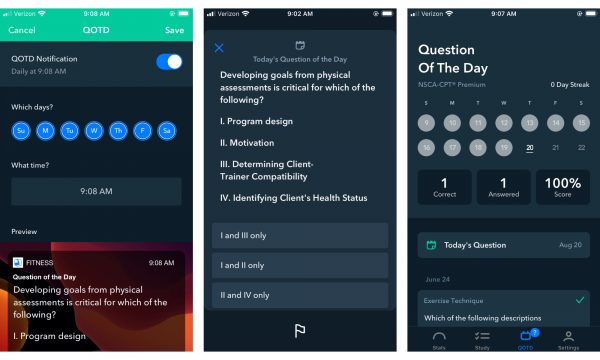 There's also the option to do a Quick 10 Quiz, Timed Quiz, or Build Your Own Quiz. I used the Quick 10 often since it was easy to get in during a commercial break or lunch break at work without having all of my materials with me. The most important thing to do when it comes to quizzes is to continue taking them until you have correctly answered every question (there's an area on the home page that will show you how many questions you've answered in total). 
The questions provided by Pocket Prep are extremely similar to those on the CPT exam, so getting them correct will let you know if you have a good understanding of the concepts. 
When is the Best Time to Use Pocket Prep?
Pocket Prep worked best for me once I was completely done taking notes on every chapter in my textbook. At that point, I recommend taking quizzes for every chapter until you always receive a 100%.
I found it helpful to do at least one quiz daily, whether it be through the online portal, or through the app. One day off can lead to multiple days off, and while I am an advocate for rest, it is so important to keep going when it comes to studying for your exam, especially when the quizzes only take 5 minutes of your time. 
My Key Tips for Passing Your CPT Exam
Make a weekly study schedule in a planner or calendar. Take your planner with you everywhere so you can study those concepts in small pockets of time without having all your materials. 

Get through the entire textbook and keep track of which concepts are most difficult for you. 

Download the

Fitness Pocket Prep app

and take daily quizzes. Taking quizzes until you are continually getting a 100% is key in understanding the concepts. Continue to study major areas like training phase details and postural distortions. 

Don't quit! Push through the difficult days where you can't seem to get anything correct and study small pieces every day. It will make a difference. 
To hear more about my experience taking the NASM CPT exam, check out my video below:
At Pocket Prep, we offer exam preparation via mobile or desktop app for the NASM-CPT as well as the NASM Performance Enhancement Specialization™ (PES). Our NASM-CPT exam prep offers 800 practice questions that span seven content areas of Basic and Applied Sciences, Assessment, Exercise Technique and Training Instruction, Program Design, Considerations in Nutrition, Client Relations and Behavioral Coaching, and Professional Development and Responsibility. Over 138,000 people have prepared for the NASM-CPT using Pocket Prep.
To learn more, visit our NASM-CPT and NASM-PES™ exam pages. As always, Pocket Prep apps are free to download and feature introductory content at no cost.