Some people get into the automotive industry because they love cars. Maybe a beloved family member or neighbor had a vintage something that they always tinkered with. Other people like the idea of a stable job where they work with their hands and solve problems that don't involve spreadsheets and TPS reports.
In 2021, 91.7% of American households owned a car. Like every household item, cars need maintenance.
Cars have existed since Karl Benz created the three-wheeled 'Motorwagen' in 1886. Even though automotive technology has come a long way since then (hi, Smaht Pahk), the need to maintain and service the machines that so many Americans rely on will not change.
What kinds of certifications are available? 
Getting certified as an auto mechanic typically requires formal training and passing a certifying test. One of the most common certifications is through Automotive Service Excellence (ASE).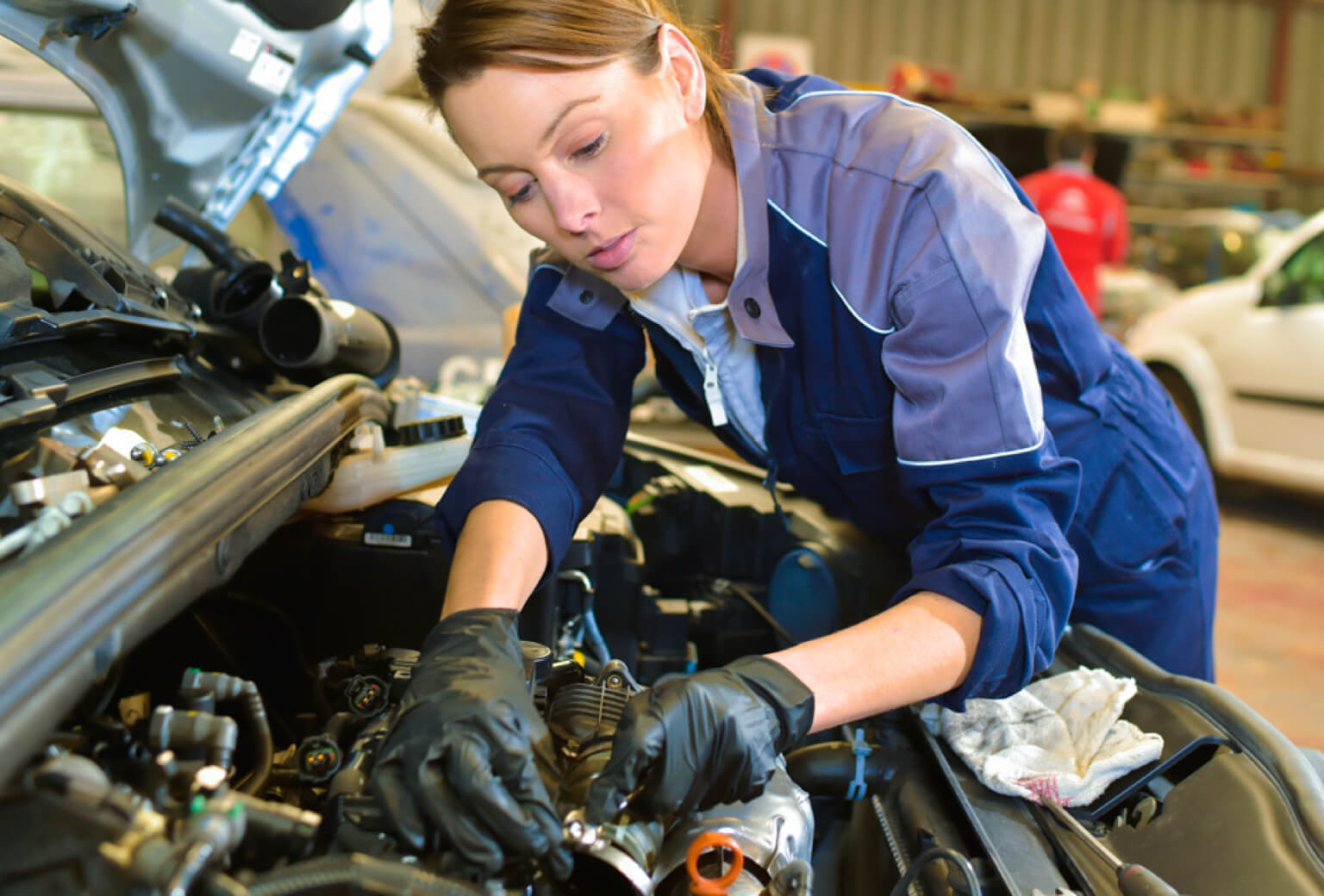 There are multiple types of ASE certifications available, some of the most common being the ASE 1-9 series which covers automobiles & light trucks. These tests ensure technicians can diagnose, service, and repair cars, SUVs, and light duty trucks (up to Class 3).
A1 – Engine Repair (50 scored questions)
A2 – Automatic Transmission/Transaxle (50)
A3 – Manual Drive Train & Axles (40)
A4 – Suspension & Steering (40)
A5 – Brakes (45)
A6 – Electrical/Electronic Systems (50)
A7 – Heating & Air Conditioning (50)
A8 – Engine Performance (50)
A9 – Light Vehicle Diesel Engines (50)
The A1-8 series are considered core to becoming certified. The H Series covers buses, and the T Series covers medium-heavy trucks with the same topics as above. ASE has many certifications and tests that cover everything from basic automotive care to alternate fuels and hybrid work.
Not all states require licensure to be an automotive mechanic, and it's important to check your state's guidelines on licensure requirements.
Automotive programs
The ASE Education Foundation is a non-profit that accredits entry-level automotive educational programs. The foundation also connects hiring companies with high schools and technical colleges. There are accredited programs all over the country.
Many high schools offer automotive programs, and most technical schools will offer automotive programs. Someone who identifies an interest in automotive early on can get a jump start on their automotive career.
Getting certified does not require a four-year degree or overly expensive schooling. Associate degrees and certificate programs are common and typically take two years or less to complete. Associate degrees typically cost more ($10,000 – $25,000) compared to certificate programs ($5000+).
Dealership-affiliated programs
Many automotive manufacturers have their own auto mechanic programs. It's one potential avenue for those who want to move up in the ranks within one branch or company or want to specialize in a specific vehicle manufacturer.
This is by no means an exhaustive list. Look at dealerships in your area to see what kid of programs and affiliations they offer.
What's the job outlook
The projected change from the U.S. Bureau of Labor and Statistics is only 1% from 2021-2031. While the industry isn't experiencing massive growth, it is projected to remain stable.
According to Salary.com, the average Master Auto Technician salary in North Carolina is $69,089 as of May 01, 2023.
Ziprecruiter compares average automotive technician salaries by state, with the lowest being $31,303 in Louisiana and the highest at $61,438 in Hawaii. The national average is $52,080.
They also have a list of types of auto mechanic titles and what they typically pay.
Pros and cons of auto mechanic work 
Aside from upping your survival chances during the zombie or AI apocalypse, there are some great benefits to learning automotive mechanics. Consider what's important to you in a career and what feels sustainable in the long term.
Pros
Work with your hands
Potential self-employment
Consistent job demand and work
Work variety and consistent learning
Cons
Physically demanding
Potential health risks from chemicals
Atypical working hours (sometimes)
Deadline driven
Bottom line: Is automotive a good career path?
If you like cars, mechanical problem-solving, and working with your hands, then the answer is yes. Mechanical skills are valuable, and as long as you keep up with the technological changes in the automotive industry, mechanics will always be sought after.