What does taking a gap year in 2022 look like? 
A gap year is one of those obscure and misunderstood concepts that many Americans are surprised to learn even exists. The gap year – also referred to as an Overseas Experience (OE) in other countries – is traditionally described as taking a break from formal academics.
A curious concept for many people, it has been proven time and time again to be one of the best things young people can participate in to help build self-direction, cultural and personal awareness, and even communication skills.
This break most commonly occurs between the transition from high school to college, but it can also occur in the transition phase between earning a college degree and graduate school or between college graduation and entering the workforce. The typical length is a full year, but many people shorten or lengthen the period to better fit their specific needs and goals.
A survey done in 2020 by the Gap Year Association measured data from 1,200 Americans and Canadians who had participated in a recent gap year. We'll go through a few findings from their survey results in this article. One of the things they measured was the average length of the break taken. As shown below, two-thirds took a break for 7-12 months.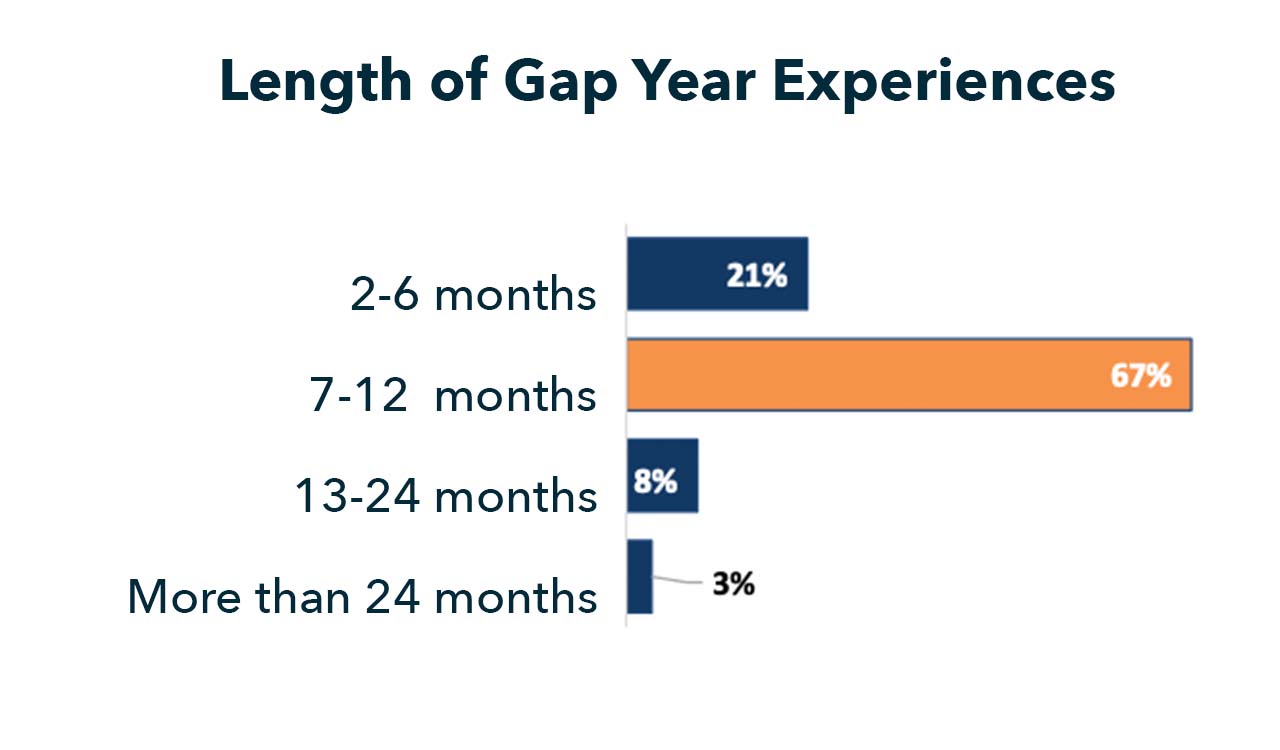 What do people do during a gap year?
Whatever they need in their life at that moment.
Typically, a gap year provides an enriching experience that compliments both personal and professional needs – from avoiding academic burnout and recharging your batteries to beefing up your resume and gaining worldly life experiences in your formative years. It's an opportunity for young people to build self-confidence and understand the role they play in a large community.
The Gap Year Association's 2020 survey measured the types of activities people participated in while taking part in a gap year: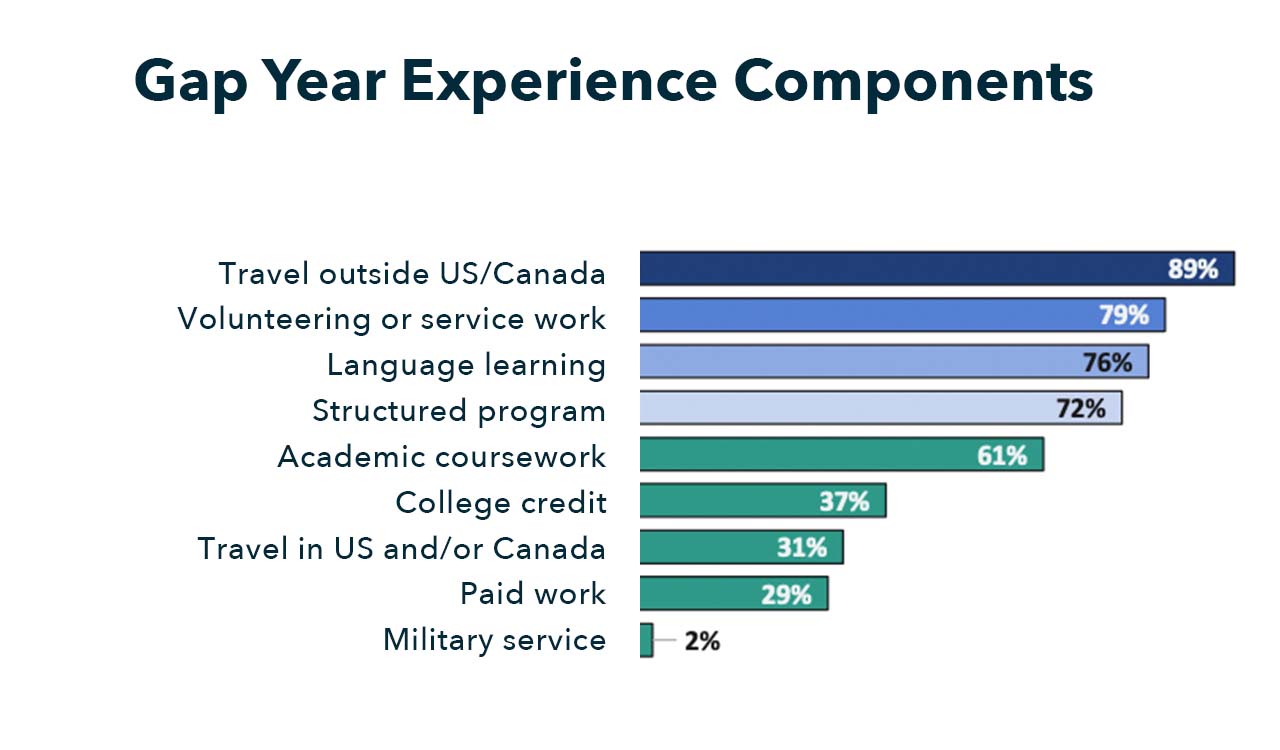 Gap years are not based on the requirement of traveling the world, although many people do choose to travel during this time. This is a great time to intern, teach, volunteer, or commit to a big project like learning a new trade or a foreign language.
People have become an au pair, participated in cultural exchanges, volunteered at a summer camp, started their own companies, explored a new art form like music or painting, or taken on a coaching or leadership role. The opportunities are endless.
How Covid-19 affected the concept of a gap year
Historically, gap years have always been a low participatory concept in the U.S.
Data from 2011-12 showed that only an estimated 1.2% of first-time college freshmen in the U.S. deferred their college admission to take a gap year. For comparison, the UK averaged about 5% of their students taking a gap year at the same time.
In the past decade, there has been a very slow rise in popularity in the U.S. with the average gap year participation rate pre-Covid sitting around 3%.
Then, Covid hit.
With 99% of college education taking place online instead of in-person, people's priorities started to change as traditional forms of higher education started to dwindle. Additionally, people started reassessing their career trajectories, placing higher priority on stepping away to refocus and revisit personal and professional paths.
Within just six months of the pandemic's onset, colleges started to observe major shifts in first-year students' choices. MIT in Massachusetts normally observed 1% of their first-year students opting in for an admission deferral. By mid-2020, that number had risen to 8%. At Bates College in Maine, 10% of their first-year students had requested deferral, over doubling the original average of 4%.
A study released in August 2020 found that "40% of incoming freshmen at four-year colleges are likely or highly likely not to attend." That's almost half of the student population opting out of taking the path most traveled when it comes to education.
While there were many factors relating to Covid each student considered – from a school's ability to maintain safety on-campus to quality of education received – the U.S. observed a definitive shift in students prioritizing their own needs over formal educational expectations.
Aren't gap years incredibly expensive?
One of the largest misconceptions about taking a gap year are the costs associated. While there are plenty of pricey programs available to join for those who aren't limited by cost, there are also options available to those who cannot commit to larger upfront costs or need to continue earning income.
Many programs available to high school and college level adults will provide a monthly stipend to each volunteer or participant, and often the costs of travel, food and lodging are covered within the parameters of the program. The majority of paying programs are not going to have incredibly competitive compensation, but in return, program participants will have low on-the-ground expenses and in most cases will 'break even' or close to it.
Some of the most popular paid programs include teaching English to non-native speakers with a TESOL certification, becoming an instructor for a specialty trade or sport, or skill-specific development programs for things like cooking, babysitting or agricultural pursuits.
Results from the Gap Year Association survey found that approximately 40% of gap year participants worked for pay during their break. It also found that 33% reported spending less than $5,000 for the duration of their gap year.
Determining if a gap year is right for you
Taking a year off from formal education is a decision that must be made carefully. While your desires and goals should be at the forefront of your decision, it's also a good idea to ask for advice and guidance from those who you trust most. Seek out someone who hasn't taken the traditional educational pathway and ask them if you can pick their brain over a coffee or lunch.
One big question to ask yourself is: What skills am I looking to learn or improve upon? 
Don't restrict yourself to technical skills in the workplace, such as understanding computers or building PowerPoint presentations. Focus your time and energy into evaluating your personal skills too. They will directly affect not only your ability in the workplace, but also in how you overcome challenges and navigate problems in your life.
Per the Gap Year Association, here are a handful of personal skills that are commonly developed while participating in a gap year:
Adaptability
Civic engagement
Cultural awareness and competency
Interpersonal communications
Maturity
Self-confidence
Self-direction
Self-efficacy
Education looks different for everyone. Don't be afraid to take the path less traveled.