Pocket Prep has added a brand new exam offering to its Nursing Pocket Prep study prep – the ANCC Medical-Surgical Nursing Certification (MEDSURG-BC™).
Medical-Surgical nurses deal primarily with adult patients who are preparing for or recovering from surgery. The speciality is one of the largest for nurses in the U.S. and is practiced across several healthcare settings including hospitals, outpatient locations, homes, telemedicine and more.
The study prep is intended for Registered Nurses who want to move into the medical-surgical speciality. Per the latest exam guidelines from the ANCC, the current exam features a total of 150 questions. Of these, 125 are scored questions and 25 are pretest questions that are not scored.
Pocket Prep's study material for the MEDSURG-BC™ exam features 750 practice questions that span the three knowledge areas of the exam which are Assessment and Diagnosis; Planning, Implementation, and Evaluation; and Professional Role.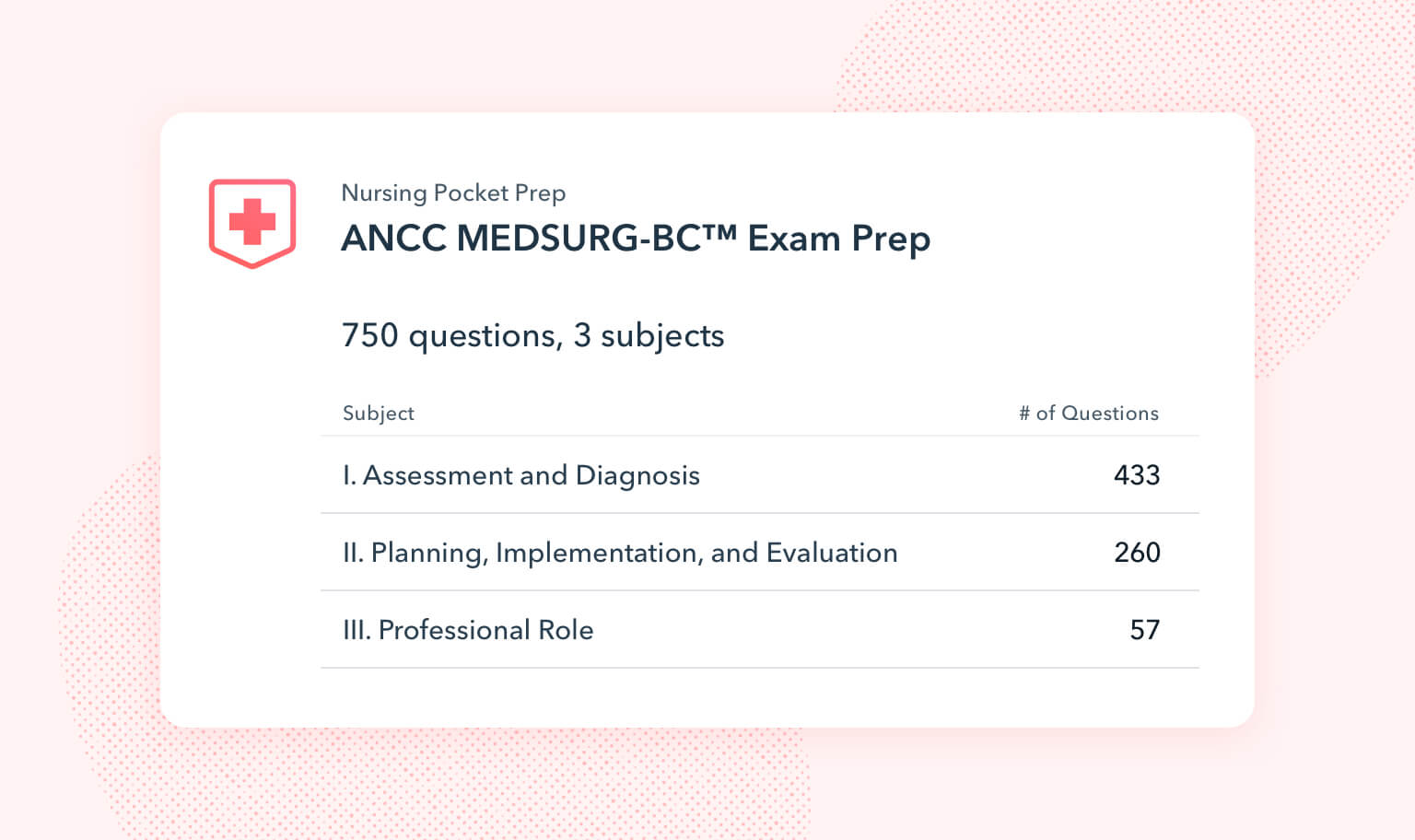 The knowledge areas are weighted at a similar rate of what the actual exam will look like, with respect to the difficulty and complexity level of the knowledge areas. Of the 125 scored questions on the ANCC exam, the knowledge areas are broken down as:
42% Assessment and Diagnosis – 52 questions
46% Planning, Implementation, and Evaluation – 58 questions
12% The Professional Role – 15 questions
All of Pocket Prep's 750 practice questions were built from scratch using Pocket Prep's sourcePrep™ process that includes working with an industry expert, and they are completely original.
The following two textbooks were used to build the content, and they are used as reference points in the detailed answer explanations for every question:
The MEDSURG-BC™ study prep is the 17th exam addition to Pocket Prep's nursing exam list. Other exams included in the Nursing Pocket Prep app include Critical Care Registered Nurse, Trauma Certified Registered Nurse, Certified Emergency Nurse, and Family Nurse Practitioner.
While the exams within Nursing Pocket Prep are for advanced nurses already in the field, the company also offers study prep for entry-level nursing students for exams like the ATI TEAS and HESI A2 in the Nursing School Pocket Prep app.
Pocket Prep has been providing study prep for nurses and medical professionals for a decade and averages a 4.8-star App Store rating on all of its exam prep apps. As the nature of examinations means regular content and version changes, Pocket Prep will always make content updates as exam standards change.
About Pocket Prep
Pocket Prep has led the mobile test prep category with its portable learning, smart feedback, and affordable programs since 2011. The company is dedicated to providing the most effective, convenient, and engaging test prep for more than 100 standardized exams spanning the medical, nursing, business, IT, social work, finance, automotive and fitness industries. The company is headquartered in Seattle, WA with an office in Durham, NC.
Media Contact