Performance Enhancement Specialist – quick facts
If you have a solid understanding of the foundational principles of fitness training, whether from experience or education, and are interested in learning more about performance training for athletes, the Performance Enhancement Specialization (PES) offered by the National Academy of Sports Medicine (NASM) is a great choice.
The PES was developed as the 6th (and most advanced) phase in the Optimum Performance Training model® (OPT) model, known as the Maximal Power phase. Along with general fitness principles, you'll dive deeper into athletic performance testing and training and will touch on specific nutrition and psychology guidance as it applies to performance training.
You'll also learn the importance of integrated programming through all six phases of the OPT model. PES offers guidance on when and how to include stretching, core, and balance training in addition to plyometrics, resistance training, speed, agility, and quickness training to address some of the unique requirements of athletes seeking peak performance training.
What is sports performance training?
Competitive sporting events and physical contests have been part of every culture in some form since ancient times. Today, modern sports are a multibillion-dollar industry. Athletes and participants at every level pursue athletic achievement and peak performance — including adult recreational athletes running 5k races, marathons, and mud runs, kids playing sports in high school and college, as well as elite athletes competing against the world's best as members of professional sports teams or in the Olympics.
Qualified individuals who have the advanced education and expertise necessary to work with these populations design and implement integrated training programs that target development in areas such as flexibility, stabilization, strength, power, and quickness, leading to improvements in overall sports performance. These training programs supplement — and when done well, complement — their sport training.
PES certification details 
The National Academy of Sports Medicine (NASM) offers one of the most recognized certifications in the strength and conditioning segment of the fitness industry — the Performance Enhancement Specialist (NASM-PES) certification. Earning this credential can help open the doors to working with this specialized group.
What is the Performance Enhancement Specialization?
The NASM-PES is a systematic, research-based certification program that is divided into the following four areas:
Anatomy and Physiology for Sport
Sports Performance Testing, Integrated Training and Programming
Olympic Lifting and Injury Prevention
Nutrition and Psychology
The NASM-PES should be considered just that — a specialization. As in any industry, specialized training and education is more advanced. It's designed to build on a strong general knowledge base to focus more in-depth on a specific topic that applies to a smaller segment of the population (or niche). In this case, the topic is sports performance enhancement.
The PES details the principles and guidelines for the most advanced phase of the Optimum Performance Training ® (OPT) model, maximal power. The OPT model was developed by Dr. Mike Clark and serves as the foundation of the NASM training programs.
The OPT model consists of 6 different phases of training, each one building on the previous phase to develop stabilization, strength, and power for safe and effective fitness and performance training. The first 5 phases apply to both athletes and general fitness training, while the 6th phase, maximal power, is generally reserved for sports performance training.
How does one get NASM PES certified?
After enrolling in the PES course, you have one year to complete the final exam. This online, 90-minute test consists of 100 multiple-choice questions, testing proficiency in assessment, basic & applied sciences, exercise technique, nutrition and program design. You must score 70% or higher to pass. Once certified, the NASM-PES certification never expires.
Who is this certification most useful for?
Although it's not required to enroll in the program and take the exam, it's useful to have prior education and knowledge in the fitness arena. An existing general personal training certification (CPT) is one recommendation. This will provide an understanding of basic fitness principles and a greater foundation to be able to build on with this specialty certification. There are many CPT certifications that are widely respected, although something to take into consideration is the integration of the OPT training model in both the NASM-CPT and the NASM-PES. A familiarity of this model prior to enrolling in the PES program is beneficial.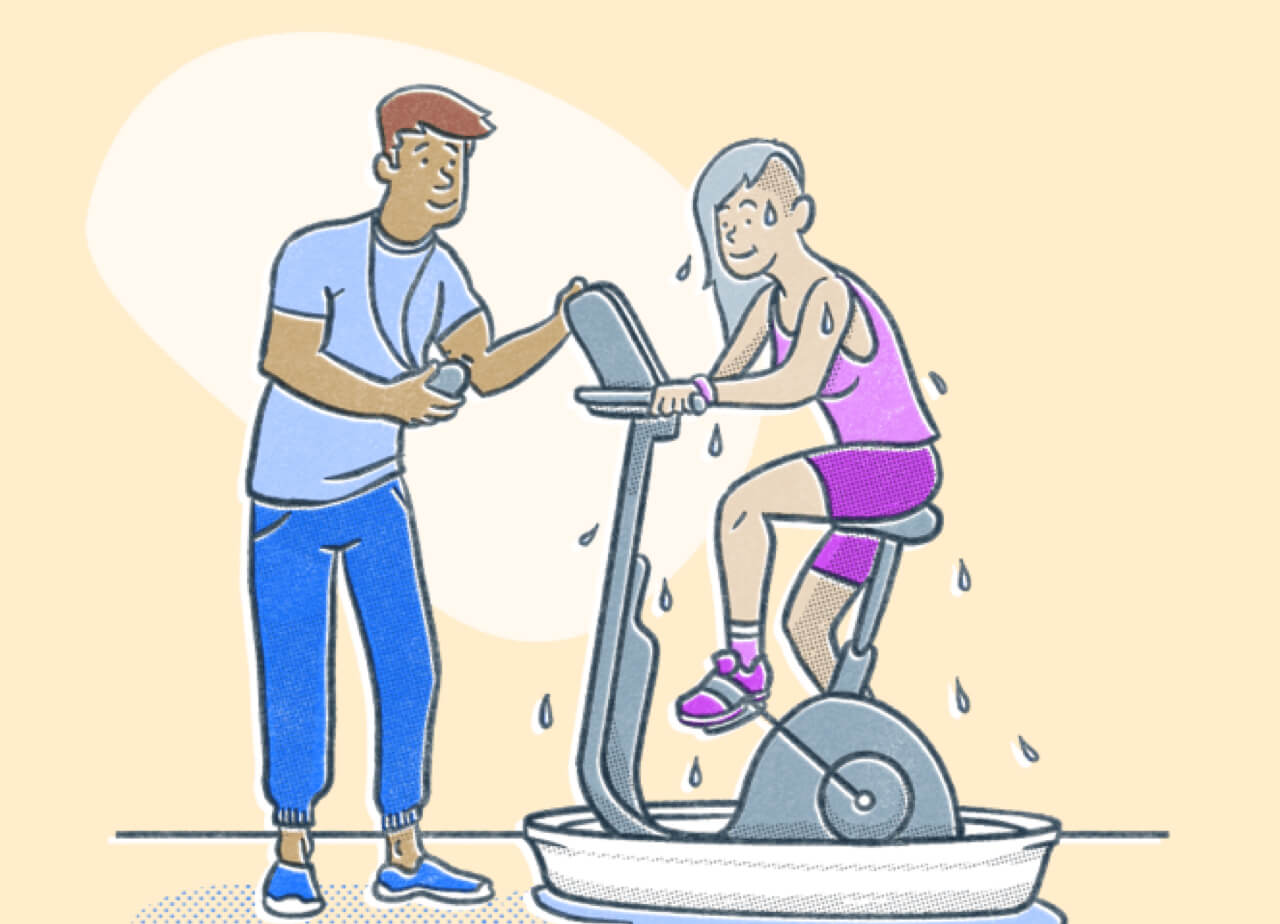 The PES is a great choice for existing personal trainers and fitness professionals who are interested in advancing their skills and learning more about sports performance. It can be a good starting point for someone wanting to pursue a strength and conditioning career. It also serves as a good option for continuing education, earning valuable knowledge and CEUs.
Others who may find the NASM-PES valuable are those that have a general interest in sports performance, either as a hobby or a profession. These individuals may either be athletes themselves or may work with athletes in different capacities, such as massage therapists, physical therapists, and sports coaches. The certification can help these individuals better understand athlete needs and peak performance requirements.
What kinds of clients and job duties would someone who is PES certified encounter?
In any setting, a performance enhancement specialist would likely conduct athlete evaluations and testing to determine training needs and then combine that information with the individual needs of the athlete and sport to create and implement appropriate, periodized programs that are designed to improve specific performance parameters.
Programming for athletes includes an emphasis on many of the same areas addressed in general fitness training — including flexibility, metabolic, core, balance, and resistance training. However, their needs in these areas are far more specific and varied than those seeking training for general health and fitness benefits. Performance training will typically also involve a greater emphasis on developing max power, integrating things such as plyometrics, speed, agility and quickness training (SAQ) and Olympic lifting into a comprehensive training program.
The PES certification can be valuable in a variety of settings, and clientele may differ slightly based on the location. Some PES-certified individuals might decide to focus entirely on sports performance, building a career as a strength and conditioning coach, working exclusively with athletes or teams. Others may choose to offer a greater range of services, combining their expertise in sports performance with training in other areas.
Where can you work with a PES certification? 
1. Commercial gyms or private facilities 
Commercial gyms and personal training locations typically have a large general population clientele or member base. While this may not be the first place that comes to mind when you think of sports performance training, there can be many opportunities to work with athletes here.
Over the course of my own career, I have worked with many athletes in commercial gyms in personal training or small group settings. These included youth, high school, and college athletes who were children of adult gym members. According to a study conducted by the CDC, 49% of high school children in the USA played on at least one sports team in 2021. A PES-certified individual might provide seasonal or year-round training programs depending on athlete availability.
I also worked with many adult recreational athletes looking to improve their marathon or triathlon times or compete in an obstacle course race such as a Spartan race or Tough Mudder. Millions of adults are participating in events like these, creating a large market for performance-enhancement training. Some commercial gyms even have dedicated sports performance training programs. A PES-certified individual could do very well in this setting and could have the option to work with a more varied clientele if desired.
2. Sports performance facilities
The evolution of the fitness and training industry — especially in the last ten years — has led to more specialized training gyms. Just as there are cycling studios and facilities that only offer kettlebell training or Olympic-style weightlifting, many facilities are dedicated entirely to athletic performance. Since athletes are the only clientele in these locations, the PES certification would be a great addition for those interested in pursuing a career in strength and conditioning.
Depending on the facility, there may be opportunities to work with both individuals and full teams. Some facilities focus on youth sports, others on training elite and professional athletes, and some offer a combination of both. Training in these facilities might be conducted individually or in groups.
3. High school or collegiate strength and conditioning departments
College athletic departments have had dedicated strength and conditioning coaches on staff to work with their athletic teams for decades. In recent years, more high schools in the U.S. have also started adding this position to their athletic departments. In both positions, coaches would conduct athlete testing and evaluation, meet with sports coaches, then design and oversee athlete training.
A collegiate strength coach is typically assigned to one or more athletic teams, creating and implementing strength and conditioning programs specific to each sport and based on athlete evaluations and testing. While the PES certification is a good start, the collegiate strength and conditioning field is very competitive and typically demands more experience than is required to take the PES exam. Many programs also require further certifications.
Is the NASM-PES for you?
If you have a solid understanding of the foundational principles of fitness training, whether from experience or education and are interested in learning more about performance training for athletes, the NASM-PES will advance your knowledge of strength and conditioning principles and help you to understand the unique requirements of athletes seeking peak performance training.