Pocket Prep was born out of a belief that studying professionals needed better resources to study for career-defining exams.
I discovered this need while studying for a critical exam myself: the CPIM, otherwise known as the Certified in Production and Inventory Management credential by APICS.
It All Started With My Employer Encouraging Me To Get A Certification
Before starting Pocket Prep, I worked as a Senior Production Planner for Lockheed Martin, the global aerospace, defense, security, and advanced technologies company with worldwide impact. I was responsible for making sure we had all of the parts needed for the final assembly, on time and with strategic reserves to ensure a smooth manufacturing process.
Like many people will experience at some point in their career, the company had an initiative to get their employees certified. In this case, Lockheed wanted the Production Planning & Control Department that I was a part of to become CPIM certified.
Management knew that the body of industry knowledge would help new and veteran employees alike optimize their assembly lines, tighten schedules, eliminate waste, and add more overall value to the company's operation.
Getting this certification was no small feat. Back in 2009 when I was presented with this opportunity, the certification was presented in five different exams: BSCM, MRP, DSP, ECO, and SMR.
Each of these exams were extensive, and each exam also stacked on the previous one, increasing the total amount of information required to understand for each. Studying for five exams on top of an already hefty workload was quite the commitment. Just a few years later, APICS consolidated the CPIM certification into two exams.
Establishing My Available Study Resources
While we did have some in-house training available at work that helped familiarize us with the material, the bulk of the work fell on our own shoulders. We were also given the official APICS Learning Systems textbook to study from, and that was it.
In 2009, there were no study guides, online tutorials or videos, or even practice questions to accompany the exam. If I were to pass these exams, it was up to me to read the textbook and create my own study resources.
Many employees that were given the opportunity to take the CPIM ultimately decided to opt-out due to the incredible workload and commitment required. But the people who chose to commit, including me, formed frequent study groups so we could hold each other accountable and maintain consistency as we studied.
While I have many fond memories of these study sessions, we started to face complications when someone would fail an exam. As the testing organization APICS would lock candidates from retaking an exam for 30 days, the group would progress forward to the next exam while those who failed would be stuck playing catch up. It was an unfortunate side effect of working in a group atmosphere, despite the overarching positives that came from it.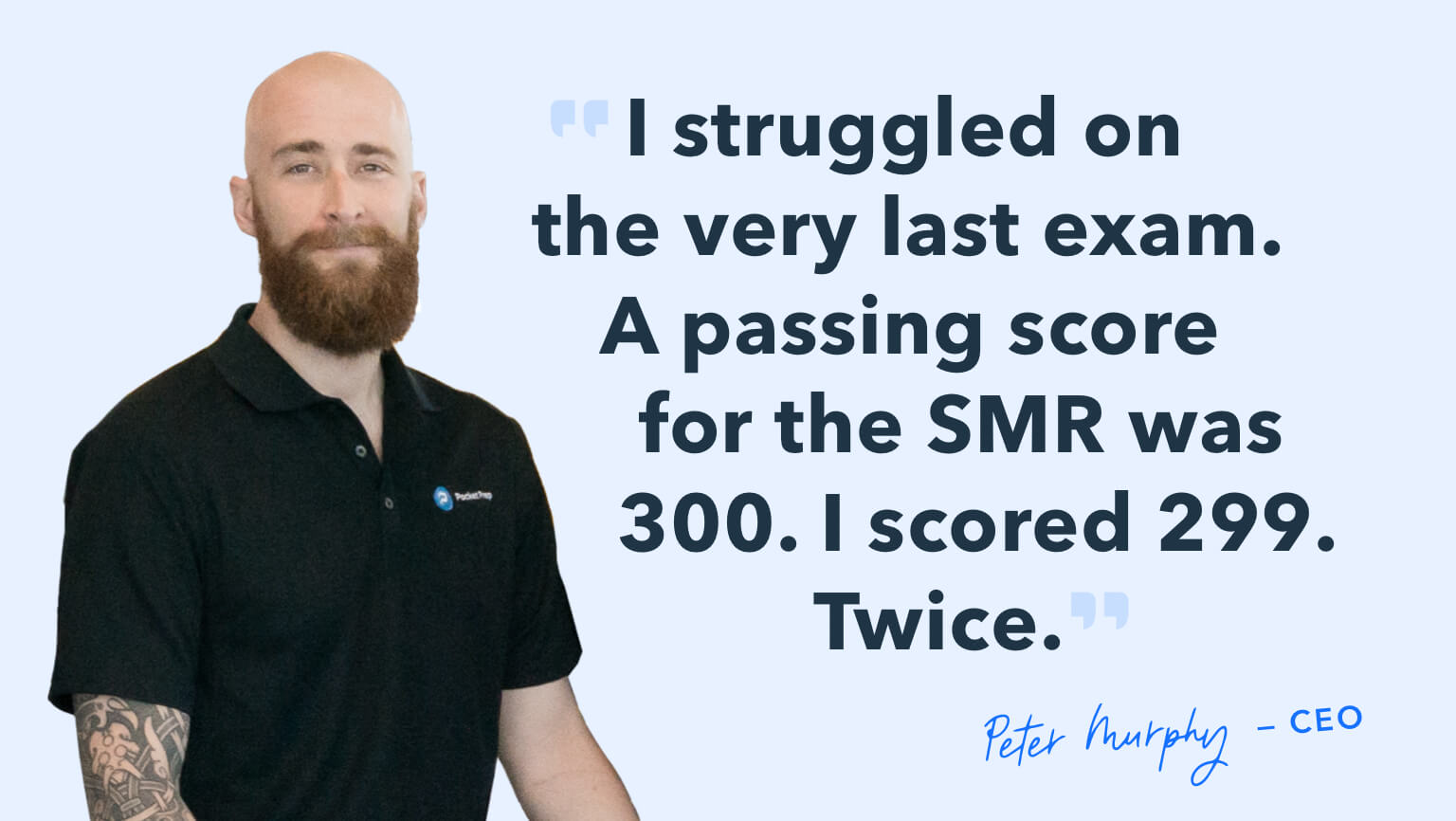 Committing & Almost Nailing It
Studying for these exams required a lot of time, patience and willingness to commit to the full process. While I had group support at times, the responsibility to read the textbook and absorb the necessary material so I could pass the exams was ultimately my responsibility.
I created my own homemade flashcards, quizzing myself regularly, and I even wrote my own set of practice questions to help me understand areas I needed to focus on the most. I spent roughly 6-8 weeks studying per exam. In total, I clocked nine months of studying to knock out all five exams.
While I would love to say it was a simple and smooth process, the reality is that I struggled on the very last exam: the SMR. A passing score for this exam was 300. I scored 299. Twice. That's right, twice. It took me three tries to finally pass.
There was nothing worse than having to come in on Monday and tell your boss you failed and you'll need another exam voucher to try again. I was fortunate in that they were always accommodating, but it was certainly a humbling moment that would ultimately inspire me down the road.
A Need For Varied Study Sources
This experience of preparing for a career-defining designation taught me a lot about how we define and approach studying. It taught me that learning, understanding and memorization are often associated with restrictive book-to-table study tactics.
I was constantly finding myself chained to a desk or table, whether at home, work or a coffee shop, and re-reading the same content over and over again with limited variation. If I wanted to quiz myself, it was up to me to create the flashcards and build the questions.
As I built my own questions, it forced me to think differently about what I was learning. Just the subtle shift in structure allowed certain things to stick into my memory that weren't sticking by reading before. This makes sense as scientific studies have continually shown that quizzing has a unique power to make information stick in the brain.
Studying for the CPIM was the spark that initiated Pocket Prep. I realized that people needed a way to quiz themselves on the material they were studying, and it needed to be on the go and easy to use. I was surprised to learn that many testing organizations simply didn't offer these types of resources to people at the time.
Changes In Studying That We See Today
Fast forward to today, many major testing organizations have advanced to provide some sort of additional study material. Some offer a set number of practice questions while others have built online study portals with interactive videos and exercises. The CPIM, in particular, has built a robust 'Learning System' that features an online assessment, additional reading material and interactive study tools.
While these new offerings are needed more than ever in our fast-paced and busy world, the reality is that they are often still associated with heavy study guides and books, or computer-based online learning. This leaves people still chained to a desk to be able to study and mobile access to this type of content being hard to find.
The cost to access these study materials is another huge concern. The majority of testing organizations will provide supplementary study materials, but for an additional cost. While I was fortunate to have my company cover the direct testing fees associated with taking the CPIM, many people who are taking these exams simply do not have that luxury.
The cost to take the Part 1 and Part 2 exams for the CPIM certification today is $1,380 for non-members. Want access to their robust Learning System to prepare for the exam? The cost is $1,240 for both exams. Add into this the costs for official textbooks or any additional study tools, and the cost to have comfort and support during the study process suddenly doubles.
While every exam and certification on the market will vary in logistics and cost, the reality is that study materials provided by official testing organizations are often an added financial burden for people who are already shelling out limited funds just to secure their education.
How Pocket Prep Approaches Studying Differently
The reality is the "all or nothing" nature of certification exams makes it essential to maximize study time. There are no additional credits given for homework, practice quizzes or extra projects. When we go to sit for a high stakes exam, there are only two options: pass or fail.
According to learning science, quizzing yourself regularly on new material builds new pathways in the brain, helping information stick. It also helps you understand where you're performing well, and where you're struggling, in turn allowing you to pivot your focus to where it's needed most.
That's why Pocket Prep has made practice questions and quizzing the core of what we do. We also use personalized data from your actual answers to show you exactly how you're doing, from your weakest subject area to how long it took you to answer questions.
Taking regular quizzes is one thing, but being able to go back and review performance by subject area is a huge added benefit for studying.
Meaningful Study Doesn't Have to Be a Luxury
Studying doesn't have to be confined to a desk, and learning doesn't have to be defined as reading. Technology has made education more accessible than ever before, but it's up to you to determine how you want to use it.
Pocket Prep believes that education should be a fair fight. That everyone should have a chance at continuing their learning path. We put the power of education in anyone's hands. And we make it engaging and even, fun.